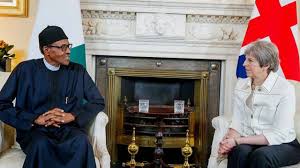 President Muhammadu Buhari, has assured the UK Prime Minister Theresa May of his commitment to conducting free, fair and credible elections in 2019.
In a bilateral meeting with the visiting Prime Minister, President Buhari welcomed UK's support at strengthening democratic institutions in the country.
"I assure you that I'm all out for free, fair and credible elections. I'm very pleased that my party is doing very well. The High Commissioner will brief you more.
"The recent successes in polls in Katsina, Bauchi, and Kogi have boosted our morale greatly.
"Nigeria has accepted multiparty democracy and that is putting politicians on their toes, forcing them to work harder," he said.
On the anti-corruption campaign, the President applauded the British support to the country, noting that the success of the fight was very important to ordinary people in the country.
"We had great opportunities and resources between 1999 and 2014, due to high oil prices. But when we came in 2015, oil prices plunged to as low as 37 dollars per barrel.
"What we have been doing since 2015 is to focus on infrastructure development, despite low earnings. Work is ongoing in roads, rail, power, and many others."
On Brexit, President Buhari noted that it provides an opportunity to strengthen the historic ties between Nigeria and the United Kingdom.
"We are nervously watching the development about Brexit because we know that the relationship had been on for a long time. I assure you that I am prepared to strengthen the relationship between our two countries."
The President also thanked the UK government for the support on security and the fight against insurgency in the North Eastern part of Nigeria, as well as the improved trade relations between both countries.
"I am very grateful to the British government under you leadership for the help in security, particularly your training team that is in our institution in Kaduna," he said.
In her remarks, Prime Minister May, who welcomed the assurance by the Nigerian government on credible elections in 2019, said she was pleased to be in Abuja to continue the excellent discussions she started with President Buhari in London in April, this year, particularly on security, trade, asset recovery and the fight against corruption.
"Security and defence cooperation are very important steps to address Boko Haram and Islamic State in West Africa," May said.
On asset recovery, the Prime Minister told President Buhari: "we do not want to hold anything that belongs to Nigeria people, but we follow the judicial process, which can be slow."
The Prime Minister appealed to President Buhari to use his position as ECOWAS Chair to keep the issue of human trafficking on the front burner in the sub-region.
President Buhari and Prime Minister May witnessed the signing of two agreements: Security and Defence Partnership and Economic Development Forum Agreement.