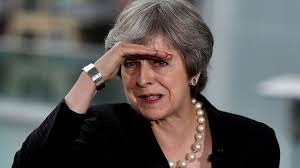 It is a distinction that no country wants: the place with the most people living in extreme poverty.
For decades, India remained stubbornly in the top spot, a reflection of its huge population and its enduring struggle against poverty.
Now, new estimates indicate that Nigeria has overtaken India as home to the world's greatest concentration of extreme poverty, amid warnings that the continent will host nine out of 10 of the world's poorest people within 12 years.
The British Prime Minister, Theresa May on Tuesday, also confirmed that Nigeria was the home of the highest number of poor people in the world.
Speaking in Cape Town, South Africa, May said 87 million Nigerians were living below the poverty line of $1 and 90 cents per day.
She said, "Much of Nigeria is thriving, with many individuals enjoying the fruits of a resurgent economy, yet 87 million Nigerians live below $1 and 90 cents a day, making it home to more very poor people than any other nation in the world."
"I am unashamed about the need to ensure that our aid program works for the UK.
"Today I am committing that our development spending will not only combat extreme poverty but at the same time tackle global challenges and support our own national interest.
"It is in the world's interest to see that those jobs are created, to tackle the causes and symptoms of extremism and instability, to deal with migration flows and to encourage clean growth," she added.
In February, the African Development Bank had said that 152 million Nigerians, representing almost 80% of the country's estimated 193.3 million population, lived on less than $2 per day."
However, Nigeria's trade, industry and investment minister, Okechukwu Enelamah, said the figures only reflected a period when Nigeria was in recession.
"I think first we need to understand … there are reports that are lagging in indicators, which means people are reporting on history," he said, adding that he hoped Nigeria's economic policies would lead to a reduction in poverty, Enelamah said at the time.