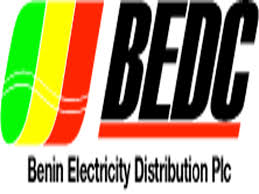 Between January and July this year, the Transmission Company of Nigeria (TCN) national grid has been highly unstable with over 2,000 outages and interruptions recorded in BEDC Electricity Plc's. (BEDC's) network coverage area of Delta, Edo, Ekiti and Ondo, causing affected customers dissatisfactions.
Managing Director/CEO of BEDC, Mrs Funke Osibodu disclosed this during a media parley organized at the company's Head Office in Benin, Edo State, according to a statement from the power distribution firm.
However, she said that notwithstanding the supply interruptions, the company was able to record several improvement initiatives, which impacted positively on power availability to customers in all the four states within its franchise area.
She noted that recent information from National Bureau Office of statistics stated that BEDC has the highest number of meters amongst all the 11 electricity distribution companies.
Commenting on how the firm had been of service to its esteemed customers, the BEDC boss said: "In Delta State, we restored electricity supply to over 54 Communities including Ibusa, Ogwashi-Uku, Ubulu-Uku, Isselu-Uku (on-going), Ogunu, Otor-Udu, Emadaja, Iwhrekekan, Mosogar, Onyobru Water Side Community. In addition, in order to enhance security, various streetlight projects were commissioned that are providing 24 hours supply covering over 20 km in Asaba across major urban roads such as Mariam Babangida way, Ibusa to Koka Junction, Illa road to DELSU Anwai Campus, Government Core Area, Interbua, Ezenei Road, Nnebisi-Dennis Osadebe Road to Abraka, Okpanam Road and locations in Effurun area – Jakpa Road, Airport Road, NPA Expressway, DSC Round, Sokoh Estate road, Refinery Road, PTI road.
"In Edo State, power supply has also improved from 2hours in 2013 to 6-10 hours for locations with severe infrastructure limitations such as Okada, Oluku, part of Sokponba, Evbuotubu, Oliha and Siluko, all in Benin, there has been improvement from 6hours to 12-15hours for locations with more improved infrastructure including Auchi, Edo North, GRA, Ugbowo, Okhoro and New Benin."
Besides, she added that while "there is 18 -24hours power for commercial customers on dedicated lines involving 23 hotels, several banks, eateries, shopping mall and Government establishments including Central Hospital, Edo State House of Assembly Complex, High Courts, Government House."
Additionally, the BEDC CEO stated, 14 street light projects, within Benin now enjoy 24 hours power availability with some of the locations being Kings Square, Museum Street (Ring Road), Airport Road, Sapele Road, Oba Market Road (Ebo), Sokponba Road by Omoruyi Junction, Ekpenede Street by Bob Izua, Ihenya Street (off New Lagos Road), Evbomwan Street (by Best Western).
In Ondo state, BEDC she said, improved on special projects for commercial and industrial customers stressing that most of the educational and health institutions, banks in the state were now enjoying over 18hours of electricity supply.
"Customers on the Ogese main line, Ayeyemi, Christland and Sacred Heart communities in addition to Ikoshin, Igbado, Dagbe, Ajuie, Omifon, Odigbo now also have supply of between 16hours to 23 hrs. In addition, there is improved supply to Oke-Igbo, Ile Oluji, Odojumu, College, Palace, Oke Aro, Ore and Igbara Oke from 3 hrs at take over to minimum of 6-10 hrs. Supply to other communities such as Owena, Ilara Mokin, Ogotun, Igbara Oke has also improved," she added.
"In Ado Ekiti, Oriapata,Adebandele supply availability has improved from a minimum of 3-5hours to 9hours, with communities such as Otun- Ekiti, Iro- Ekiti, Ira- Ekiti, osan and Osun- Ekiti having a minimum of 18-20hours supply."
Meanwhile, she said that BEDC has signed Memorandum of Understanding (MOU) with various non-TCN grid potential suppliers for a total of 120MW of power into Edo and Delta, while discussions was at an advanced stage for another 50MW in Delta.
In addition, the company has also started engaging various parties on mini-grid initiatives for the undeserved and unserved communities across its franchise states and will be signing agreement with some of them soon.
On safety, she informed that BEDC bagged 1st position in the Nigerian Electricity Management Services (NEMSA) monthly safety rankings in second quarter of 2018 based on timely resolution of defects and unsafe conditions, adding "we have also commenced the use of danger plate signage on our infrastructure and especially to sensitize the public on the dangers of violating the right of way of power lines as well as restricting unauthorized access."
Earlier before the briefing, BEDC had commissioned a bucket truck, which was part of the support by the United States Agency for International Development (USAID) under the Power Africa project using Tetrachtec management team, for the maintenance of power lines, fault clearing operations, meter installations and all other related activities to improve reliability and availability of power supply.
"Our linesmen will be able to work in a safer and faster manner whilst fixing faults more quickly without having to struggle with using ladders. One remarkable feature of the truck is that it can work in difficult terrain and including clearing thick vegetation at very high level," she added.