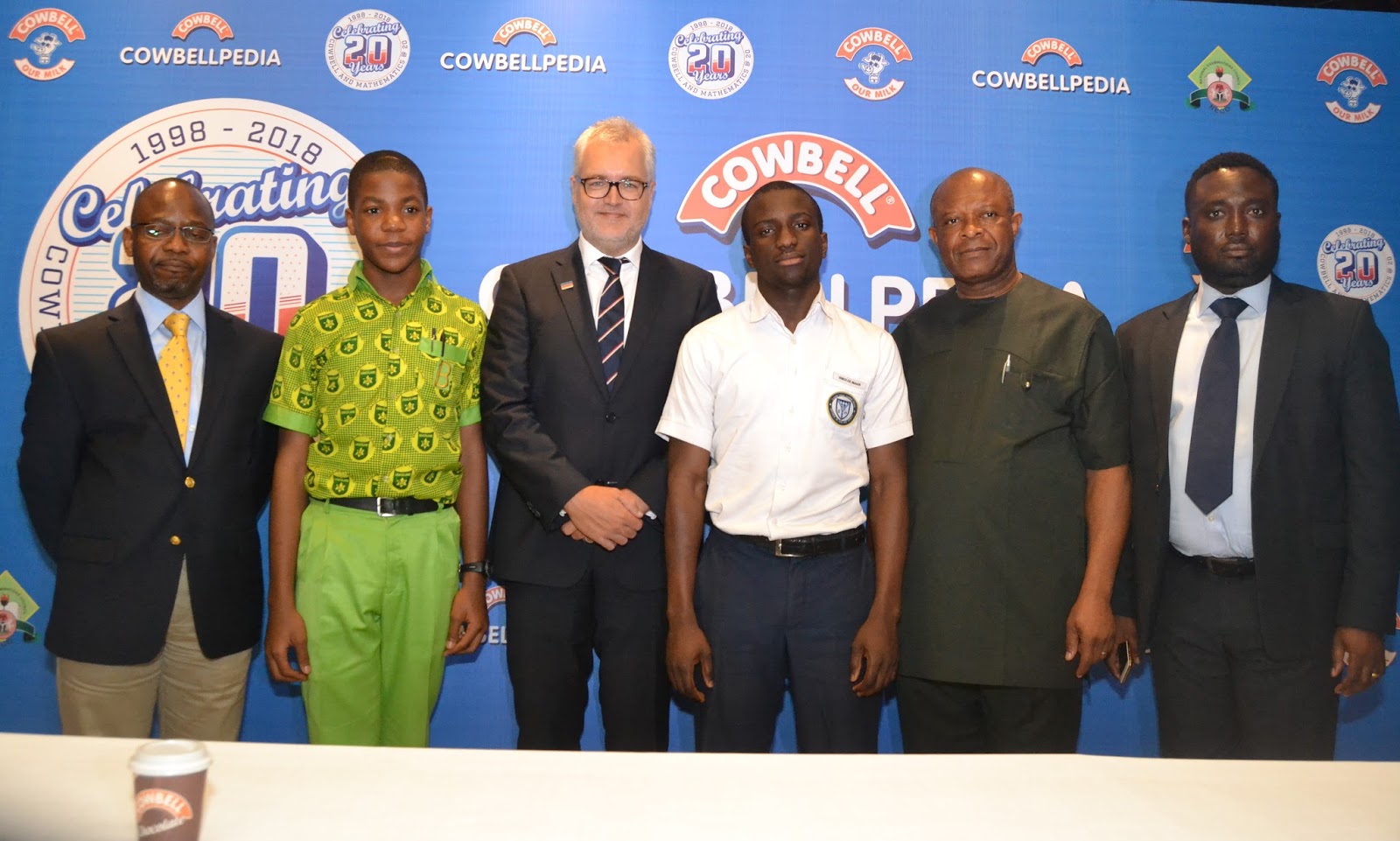 The 2018 edition of Cowbellpedia Secondary Schools Mathematics TV Quiz show and the search for the next inventor has commenced on a high note as Promasidor Nigeria Limited, makers of Cowbell Milk, announced an expansion of the initiative to mark 20 years relationship of Cowbell and Mathematics.
Speaking at a press briefing in Lagos, Mr. Anders Einarsson, Managing Director of Promasidor Nigeria, explained to journalists that this year's prize money has been doubled as winners in both categories would receive =N=2,000,000 (Two million naira) with an all-expense paid educational excursion outside the country for the winners in both categories while 1st and 2nd runners up will receive =N=1,500,000 (One million Five hundred thousand naira) and =N=1,000,000 (One Million naira) respectively.
The teachers of the top prize winners will be awarded =N=500,000 (Five hundred thousand naira) while those of the first and second runners-up will receive =N=400,000 (Four hundred thousand naira) and =N=300,000 (Three hundred thousand naira) respectively.
The competition is sponsored by Cowbell, the flagship brand of Promasidor Nigeria Limited.
In addition, Einarsson informed that the company is launching the Cowbellpedia Academy, a workshop for students and teachers in partnership with a top foreign university to expose participants to new and up-to-date learning techniques required to achieve and improve academic excellence.
To further sustain the growing interest in Mathematics by the relevant groups, Einarsson disclosed that the company came up with the Cowbellpedia Compendium initiative, which was launched at the event, as part of the 20th anniversary commemorative activities.
The Cowbellpedia Compendium is a compilation of solved questions from the past Cowbellpedia Secondary School Mathematics TV Quiz Show editions for each category. This is to improve proficiency of students in Mathematics.
"This Compendium is our 20th anniversary gift to all students across Nigeria and is available both in hard copy and electronic version.
Like in the previous editions, the Cowbellpedia Secondary Schools Mathematics TV Quiz Show is open to students in JSS 3 and SSS 2 from 10 – 18 years of age attending full time secondary education in both public and private schools across Nigeria, entry to the competition is free.
The competition is divided into two phases – Stage 1 Qualifying Written Examination and Stage 2 TV Quiz Show.
The Cowbellpedia Secondary Schools Mathematics TV Quiz show is divided into two sections – Stage 1 Qualifying Written Examination and Stage 2 TV Quiz Show.
"For the Stage 1, we are continuing with the initiative that we started in 2016 for mixed secondary schools to nominate a minimum of two girls for each category to represent such school. This is our own little way of encouraging the girl child to take interest in education especially the Science, Technology, Engineering and Mathematics (STEM) courses," he said.
The Promasidor boss also assured that the company would continue to stimulate the interest of young Nigerians in the study of Mathematics as "Cowbellpedia is a demonstration of our commitment."
In his remarks, Abiodun Ayodeji, Promasidor's Marketing Manager, maintained that the journey of the past 20 years had been remarkable for the company and the students. He announced thatregistration for this year's edition is strictly onlineand the portal is open for registration up on tillFebruary 11, 2018 when it would be closed, while qualifying examination nationwide is on Saturday, February 17, 2018, at various designated centres.
Also speaking at the event, Dr. Ikechukwu Anyanwu, Director of Quality Assurance, who represented the Registrar of National Examination Council (NECO), commended Promasidor for the initiative which he said has been of tremendous benefits to Mathematics education in Nigeria.
The 2017 winners, Munachi Ernest-Eze and Jesse Uche-Nwichi also praised Promasidor for the opportunity given to them to horn their Mathematics skills through the Cowbellpedia Mathematics Quiz Show.