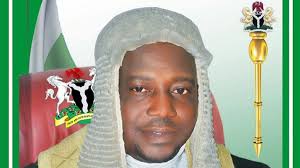 The Edo House of Assembly on Monday impeached the Deputy Speaker, Victor Edoror, for corruption, misappropriation of funds and act capable of destabilising the House.
Edoror was also suspended for three months.
Mr. Justin Okonobo, member representing APC Igueben constituency, was elected the new deputy Speaker.
Also suspended alongside the deputy Speaker for three months were Messrs Foly Ogedengbe, member representing APC Owan East; and Mr. Ganiyu Audu, member representing APC Etsako West 1 constituencies.
Messrs Ogedengbe and Audu were suspended for unruly behaviour.
The impeachment followed a motion moved by the chief whip, Iyoha Osaigbovo, member representing APC Oredo East and seconded by Mr. Emmanuel Agbaje, member representing APC Akoko-Edo 11 constituency.
Osaigbovo said: "Mr. Speaker, there is an impeachment motion before me and duly signed by 16 members of the House.
"Members who signed have found the deputy Speaker to be corrupt and engaging in act capable of destabilising the House."
Addressing newsmen shortly after the impeachment, the Speaker, Kabiru Adjoto said: "We needed to have a new deputy Speaker because of the excesses of the impeached deputy Speaker.
"I and 20 other members of the House remain committed to the All Progressives Congress and cannot leave the party.
''We are even more committed to Governor Godwin Obaseki and the re-election of President Muhammadu Buhari in 2019," he said.