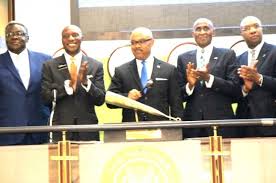 FBN Holdings Plc has said it is determined to reduce its Non Performing Loan (NPL) ratio of over 25.2 per cent, the highest in the industry within the next two years bringing it down to a single digit.
The Group Managing Director, FBN Holdings Plc, Mr. Uke Eke, who spoke during the bank's Facts Behind The Figure presentation on the Nigerian Stock Exchange (NSE) said with acceleration of recovery of the impaired accounts, one out of the five major accounts that constitute its biggest NPL burden would drop off by the end of the second quarter of 2017 leading to achievement of less than 20 per cent NPL ratio target in 2017.
He said this would be followed by resolution of the $500 million NPL belonging to Atlantic Energy, the second major account. "If you take off these five accounts, NPL concern will be taken off," he said, adding, "That is why we have decelerated loan provisioning. This gives us the hope that we will achieve the projected NPL ratio.
He noted that besides the legacy issue the bank is dealing with, no fresh NPL is forming on its books.
Eke stated that the bank is committed to completely cleaning up its loan book within the next two years as it plans to bring down its NPL ratio to single digit in 2019.
"In line with this commitment, we have appointed a Board Oversight Committee charged with the function of monitoring the bank's loan book and has made over N345 billion loan provisions in the last two years," he said.