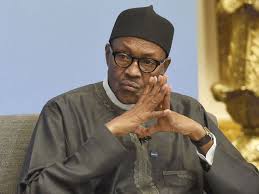 President Muhammadu Buhari has said that he does not have to rig before winning his re-election because he campaigned in all parts of the country and he can boast of enough support from Nigerians.
Speaking at the All Progressives Congress national caucus meeting in Abuja on Monday, the President said, "I'm not afraid. I went round the 36 states and the FCT and I think I have enough support across the country to vote for me."
The President also warned Nigerians against causing any form of "disturbance" during the elections, saying that security agents are aware of likely "hot spots."
"I do not expect anybody to cause any disturbance. The security agencies have identified hot spots and flash points and should be prepared to move.
"We have made as much arrangement as possible for them as much as the country can afford.
"Anybody who decides to snatch ballot boxes or lead thugs to disturb the process, may be that will be the last unlawful action you will take.
"We have directed the military and other security agents to be ruthless. We are not going to be blamed that we want to rig elections.
"I want Nigerians to be respected and let them vote whoever they want across the parties. I am not afraid of that. I went round the 36 states and the FCT and I think I have enough support across the country to vote for me."