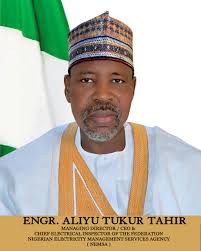 The Nigerian Electricity Management Services Agency (NEMSA), has cried out that it lacks therahehathingsehathe requisite funds to effectively perform its duties.
The Managing Director/Chief Executive Officer of NEMSA, Engr. Aliyu Tukur Tahir who disclosed this during chat with the media in Abuja, said presently, the agency does not have enough engineers to service its offices across the country.
Engr. Tahir however said that even with the little resources available to the agency, it has recorded some remarkable achievements in the few years it has existed.
According to him, "We have carried out remodeling of inherited assets from Power Holding Company of Nigeria  (PHCN), and the Federal Ministry of Power, namely; the National Meter Test Stations in Oshodi, Port Harcourt and Kaduna, the Engineering and Chemical Laboratory in Ijora,  Lagos; the inspectorate field offices at Lagos, Ibadan,  Maiduguri and Kaduna.
"We have also established additional meter test stations at Enugu,  which has now been completed and inaugurated, that in Kano and Benin will soon be inaugurated. "
He listed other achievements to include the inspection and testing of 21,681 electricity installations of which 13,154 have been certified; the testing and calibration of 2,655,488 electricity meters and the monitoring of 16, 624 electricity networks, as well as successfully obtaining the re-certification of its quality management system  (QMS) ISO 9001, 2015 standard issued by the Standards Organisation of Nigeria  (SON) in 2020, among others.
He noted that the re-certification is a strategic achievement that is already enhancing the overall performance of the agency and providing operational thoroughness and a sound basis for sustainable development initiatives.
He said the agency could have done more if it had the resources.
Speaking on the appropriateness of individuals providing their own transformers,  the NEMSA boss said it is wrong for  individuals to purchase  transformers except there is a clear agreement with the utility supplier that such individuals or groups will be refunded their money.
He said that some persons who ignorantly purchased transformers without a formal agreement with utility suppliers have had to forfeit their money because when they demanded for refund, the company simply said they had no agreement with them.