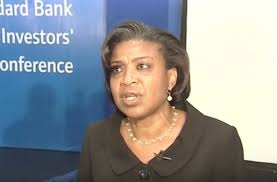 External and domestic debt of the Africa's largest economy stood $73.213 billion, or N22.4trillion as at end of September 2018, data from Nigeria's Debt Management Office reveals.
As at September 30, 2018, the country's share of domestic debt was put at 70.51 percent compared to 69.83 percent in June 2018.
Although Nigeria's domestic debt grew by 1.19 percent from N15.629 trillion in June 2018 to N15.814 trillion in September 2018, foreign debt stock declined debt stock declined by 2.02 percent to $21.592 billion due largely to government's redemption of a $500 million Eurobond which matured on July 12, 2018.
The combination of an increase in the level of domestic debt and decrease in the external debt stock, resulted in a slight shift in the composition of the country's debt portfolio, the DMO said.exceed local debt stock.
The country issued a five-year tenor, $500 million Eurobond in 2013, and this was repaid on maturity July 12, 2018, the first Eurobond maturity for the country.