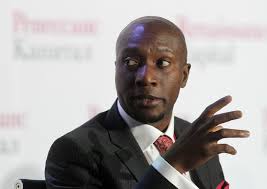 The Nigerian Stock Exchange (NSE) has again for the second year in a row emerged the Employer of Choice Award, 2016, in the "Under 1,000 Employees" category. This award which is in recognition of the Exchange's outstanding contributions to human resources development in the workplace was presented by the HR People Magazine at an award ceremony held at the Oriental Hotel in Lagos.
In addition, the Chief Executive Officer (CEO) of the NSE, Oscar Onyema, was named the 2016 HR Champion of the year, for demonstrating outstanding leadership through sound and laudable people management practices. He emerged winner ahead of CEOs of United Capital Plc and Unilever Nigeria Plc.
According to the organisers of the awards, the HR People Magazine Awards is an annual event designed to recognise companies and individuals for their outstanding contribution to the HR profession. They noted that eight organisations were shortlisted for further screening for the Employer of Choice Award (Under 1,000 Employees category), out of which the final top four contenders, MainOne, DHL Nigeria, Airtel Nigeria and The Nigerian Stock Exchange, were selected.
Receiving the award on behalf of The Exchange, Ms. Pai Gamde, Acting Head, Corporate Services Division, NSE, stated that "we are very honoured to be recognised as the Employer of Choice in the 'Under 1,000 Employees' category and are extremely proud to have achieved this feat not once, but twice in a row. This award is hugely encouraging and a testament to the innovations we have undertaken on the people front. I would like to thank the esteemed jury for recognizing our efforts and considering us worthy of this honour.
"Our heritage of success and winning culture is attributed to our employees who are the core of our business. It is their skills, creativity and commitment that shape the Exchange's performance. As such, we invest great efforts in recruiting and retaining the best employees. These recognitions will continue to spur us to providing an enjoyable work environment and culture that is characterized by diversity, equal employment opportunity, affirmative action and trustful collaboration in ensuring employee well-being and satisfaction."
Ms. Gamde further stated that the NSE has automated most of its HR processes and established many other practices such as Employee Recognition Schemes, Graduate Trainee Programme, Enhanced Maternity Leave, Paternity Leave, and Activity Centre comprising a Gym, Crèche and Café among others, to enhance employee productivity and work life balance. "The HR team enjoys tremendous support from the CEO and ExCo, which makes it possible for HR to be creative in the implementation of its people oriented strategies," she said.
This year's entries for the HR People Awards were rigorously appraised by local panel and foreign technical partners to the awards that include Julie Gordon, Managing Director, cHRysos HR, United Kingdom; Ola Ehinmoro, Director of Resources, Suntory Nigeria; Ngozi Adebiyi, Lead Consultant, OutsideInHR; among others.