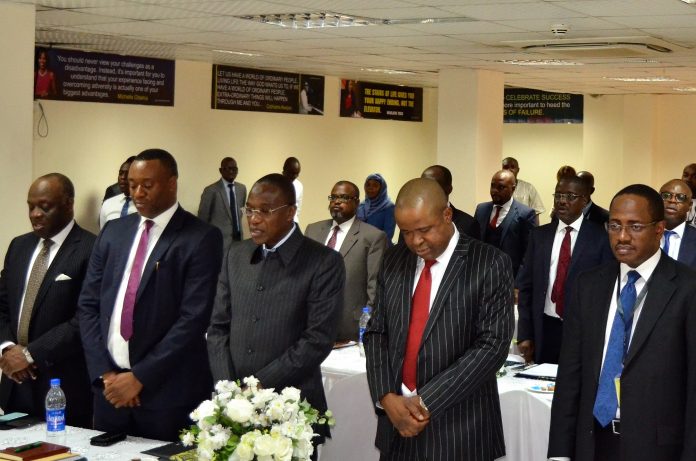 Chairman Senate Committee on Banking, Insurance and other Financial Institutions, Senator Rafiu Adebayo Ibrahim, has disclosed plans by the 8th Senate, under the leadership of Dr. Bukola Saraki, to do everything it takes to empower the Asset Management Corporation of Nigeria (AMCON) realize the tough mandate given to them by the government.
The Senator who spoke at the opening of the Committee's retreat at the NAF Conference Centre, Abuja stated that the upper chamber, as part of its oversight function, has decided that AMCON requires more support from the legislature if indeed Nigerians expect the Corporation to succeed in line with its sunset clause.
Reading from the keynote address he delivered at the commencement of the retreat titled, "AMCON as a catalyst for Economic Recovery," Sen. Ibrahim said the upper chamber is intent on having serious discussions as soon as possible to help AMCON in its debts recovery mandate.
The Senator, who said there was no better time to address the issue than now when the country is technically coming out of recession added, "Since inauguration, AMCON has been a key stabilizing and re-vitalizing tool in the Nigerian financial system and requires more support from the legislature to achieve its statutory objectives. This is the main reason this retreat has been convened with the Senate Committee on Banking, Insurance and other Financial Institutions.
He further disclosed that the fall out of the discussion at the end of the retreat would lead to pronouncements from the 8th Senate, which would comprehensively empower AMCON to better carry out its functions.
He stated that it was safe to say that AMCON has drawn from its proactive and interventional roots in a time of economic crisis for it to take on this new expanded economic role that transcends the banking sector, and seek to revitalize an entire economic system in recession.
Earlier in his address, Managing director of AMCON, Mr. Ahmed Kuru reminded the Senate Committee that having fully harvested the low hanging fruits in the first and second stages of AMCON operations, the success or failure of the Corporation at this stage would be heavily dependent on the legislature as well as the judiciary because most obligors of AMCON are employing different antics in law to tie up the Corporation in different courts.
He stated that since AMCON is a creation of the Federal Government through the Act of the National Assembly, the Senate must find a way to encourage the judiciary to apply wisdom on AMCON related cases by focusing on substance rather the current diversionary tendencies that are stalling recoveries and destabilizing the Nigerian economy.