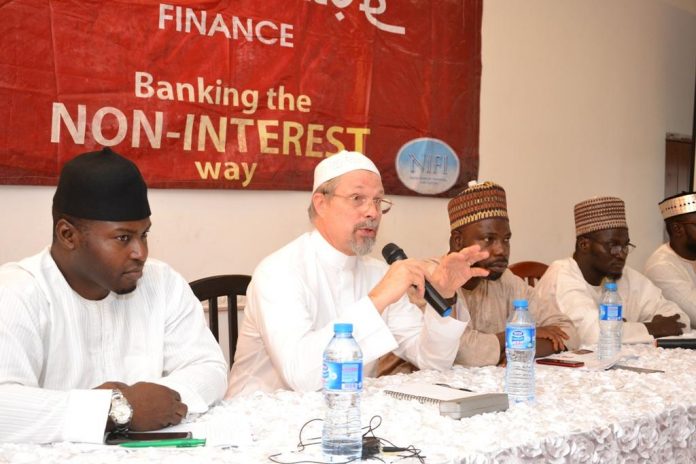 In a bid to further deepen public awareness and understanding of alternative finance or Non-Interest Banking (NIB) in Nigeria, Sterling Bank Plc, recently organised a public lecture on "Reducing Poverty & Unemployment through Non-Interest Banking."
Seasoned scholars and policy makers on various aspects of NIB presented papers and made valuable contributions during discussions at the public lecture which held at the Syrian Club on Ribabu Road in Ikoyi, Lagos. Also in attendance were hundreds of participants from the Muslim community.
Dr.. Tajudeen Yusuf, Senior Lecturer, Faculty of Business Administration, University of Lagos remarked that the major challenge facing the concept of NIB in Nigeria today is ignorance. He noted that the recent raising of N100 billion Sukuk Fund by the Federal Government for road construction purposes will help to reduce the lack of knowledge and enhance the importance of NIB as a major source of finance.
Yusuf disclosed that Vice President Yemi Osinbajo recently told members of the Christian Association of Nigeria (CAN) that the recent adoption of NIB by the Federal Government to finance infrastructure in the country was not meant to Islamise Nigeria.
Delivering a paper entitled, "Understanding the practicability of maqasid al-Shariah through Non-Interest Banking," Dr. Abdur-Razzaq Abdul-Mojeed Alaro, Associate Professor of Islamic Law, University of Ilorin, said the Banks and Other Financial Institutions Act (BOFIA) in section 43 (1) states that for an Islamic bank to be established, it must require the express permission of the governor of the Central Bank of Nigeria (CBN).
He explained that the term maqasid al-Shariah refers to one of the foundational goas of the Islamic faith which in this context is zakat (charity tax).
Dr.. Alaro said the total assets of alternative finance globally is already more than $2 trillion with more than 80 percent of it belonging to Islamic banking alone. He added that global Islamic banking assets witnessed significant growth consistently for years at a compound annual growth rate (CAGR) of about 17 percent.
Alaro who also doubles as a member of the CBN FRACE noted that the global profit pool of NIB is set to triple by 2019, adding that despite the impressive current and projected growth estimates, it is believed that the operations of NIB were not based on the foundational goals of the Islamic faith.
FRACE is an acronym for the Financial Regulation Advisory Council of Experts set up to advise the CBN on matters relating to Islamic commercial jurisprudence for the effective regulation and supervision of Non-Interest (Islamic) Financial Institutions (NIFIs) in Nigeria.
He listed the five foundational goals of the maqasid al-Shariah to include the preservation of faith, life, lineage, intellect and property.
Dr.. Alaro said under the Islamic faith, NIBs are expected to be fair, equitable and even compassionate to their customers based on the three pillars of Islamic economic worldview, which are customer level Shariah, company indexing and community matters.
Also speaking on "How Non-Interest Banking has Reduced Poverty in other countries," Shaykh AbdulKader Thomas, who is also chairman of Sterling Bank NIB's Advisory Committee of Experts (ACE), underlined the importance of community and financial technology in achieving results in countries where NIB had imparted positively on the economies of states.
According to him, a large number of Syrians and citizens of other countries relocated to Kuwait in the 1930s, a development which raised the population of that country to about two million. He added that with the adoption of NIB to finance the operations of their companies and housing sector, Kuwait recorded tremendous growth and development within a short period.
Thomas who is also the President and Chief Executive Officer (CEO) of SHAPE Knowledge Services said although the population of Kuwait has dropped to about 700,000 people today, the houses and the companies financed through NIB are still there.
Giving his views on housing and micro business sectors of the Nigerian economy, Dr. Basheer Oshodi, Group Head, Non-Interest Banking, Sterling Bank, noted that experts in Nigeria's housing sector put the nation's housing deficit at 17 million units as at 2012. According to him, financial institutions have allocated barely one percent of their loan portfolios to housing in the last 30 years.
He said Sterling Bank, under its NIB, has created a model for people to get their own homes at affordable rates.
In the micro business sector, Oshodi said research showed that about 0..5 percent of the population earns an income of N200, 000 below on a monthly basis, a development which showed that many of the citizenry were living in extreme poverty.
He, therefore, called on high net-worth individuals who desire to positively reduce societal poverty to deposit money into Sterling Bank's termed interest-free deposit account to enable the bank to create a facility for those doing small businesses as well as operators in the health and education sectors. The deposits will be returned to the depositors after a specific period or renewed.
Another discussant, Imam Abdur Raheem Seyi who also doubles as Executive Director/CEO of Clearpath Islamic Centre, observed that if banks truly want to fund education-related businesses, their orientation must change from being materialistic and capitalistic to something better.
Yet another discussant on the health sector, Mr. Shaykh Abubakar Musa, a member of Sterling Bank NIB ACE, stressed the need for regular power supply for businesses to thrive and long-term funding for operators in the health sector.