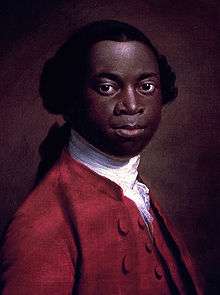 Find out how a Nigerian slave fought to end the evil of slave trade in the United Kingdom.
Born in 1746, Olaudah Equiano was a Nigerian who wrote a first-hand book on the evils of the slave trade. He was also known as Gustavus Vassa and fought for the movement to end the slave trade.
Equiano's story starts at the age of 11 in a village in the Benin, Nigeria. He and his sister were kidnapped from their family compound in Etsako and sold into slavery.
Olaudah Equiano and his sister were taken to the Caribbean island of Barbados along with over 200 captives. They were later moved to Virginia.
In the year 1754, Equiano was bought by a lieutenant in the Royal Navy, Michael Pascal. The naval man renamed him Gustavus Vassa after the 16th century King of Sweden. Equiano did not like the new name and had to be physically beaten to accept Gustavus Vassa.
Youssou N'Dour played the role of Olaudah Equiano in the movie Amazing Grace play
According to history, Pascal was kind to Olaudah Equiano. Michael Pascal returned to England and took Olaudah Equiano with him. The Nigerian slave took part in the Seven Years' War with France. He was charged with the duty of bringing gunpowder to the ship deck.
In England, Equiano was baptized at St Margaret's, Westminster in 1759. He was also taught how to read and write in England by his godparents Mary Guerin and her brother, Maynard. They were Michael Pascal's cousins.
Olaudah Equiano would soon have a new master by the name Captain James Doran of the Charming Sally. Equiano would later find himself in the Caribbean again. Shortly after, he was sold again to Robert King, an American who was a Quaker.
Equiano underwent a lot of personal growth under James Doran. His reading and writing got much better. He was given more business responsibilities. At the age of 20, Equiano was promised he could buy his freedom for £40. He bought his freedom in 1767.
Olaudah Equiano preferred to leave the British colonies because of the limited opportunities for a black man.
Equiano moved back to England. During this period, he travelled the seas including a trip to the Arctic in a bid to find the northern route to India. During this voyage, he met Dr Charles Irving who invented a process to distill sea water.
A couple of years later Irving and Equiano would work together on a project that involved selecting and managing slaves as labourers on sugar cane plantations. This was because of his Igbo background.
Freedom was a culture shock for Equiano and he admitted to having suicidal tendencies. He would find peace in the Methodist denomination.
Olaudah Equiano became involved in the abolitionist movement in the 1780s when he moved back to London. Equiano grew to be an influential individual in the abolitionist movement. He was encouraged to write a memoir based on his life experiences as a slave which he did in 1789.
It was titled "The Interesting Narrative of the Life of Olaudah Equiano, or Gustavus Vassa, the African". The book was a huge success and had 9 editions in his lifetime.
His account of slavery helped push the abolitionist movement in leaps and bounds.
Olaudah Equiano got married on April 7, 1792, to Susannah Cullen, a white woman. The union produced two daughters Anna Maria and Joanna.