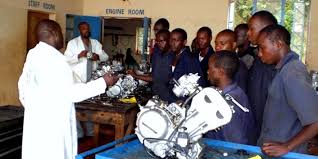 The Federal Ministry of Youth and Sports Development has concluded a two-week entrepreneurship and vocational training programmes for about 200 physically challenged Youths and Women in Ekiti State.
The participants were trained in various entrepreneurship skills with various topics taught in English and local languages.
The beneficiaries were also presented with cash support to enable them set up small scale businesses at the end of the training.
A statement from the Ministry says the training covered the general concept of entrepreneurship in Nigeria, factors affecting entrepreneurship in Nigeria, creativity and business opportunity identification, business formation and legal framework, customers building and management, fund management and financial planning, sources of finance for small and medium scale businesses as well as basic book-keeping and records management among others.
Speaking at the training, a representative of the Federal Ministry of Youth and Sports who monitored the programme, Mr Mohammed Kabiru Adamu tasked the participants to utilise the funds provided to create further wealth and change their fortunes.
Another representative of the Ministry, Mr Omilani Oludare challenged the participants not to see their conditions as limitations. He advised them to take advantage of numerous intervention empowerment programmes of the Ministry to get themselves engaged.
The facilitator of the programme Hon Adekola Segun Alexander in his own comments, said politicians in the state have in the past concentrated on the able youths while neglecting the disabled and physically challenged who in truth need the interventions. He said it was this realisation that made him conceive the idea of the training.
He promise to continue to facilitate such programmes in the wider interest of Ekiti people and Nigerians in general.
In his remarks, the managing consultant of Amzik Integrated Nigeria Limited who implemented the two weeks programme thanked the Honourable minister and permanent secretary of Federal Ministry of Youth and Sport Development for considering the firm worthy of anchoring the programme.
He challenged the participant to utilise the knowledge gained and the financial empowerment provided judiciously. He thanked the facilitator and encouraged other politicians and well-meaning Nigerians to do same.