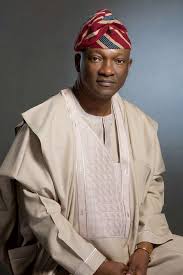 The Peoples Democratic Party (PDP's) governorship candidate in Lagos State, Mr Jimi Agbaje, says if he is elected governor in 2019, he will free the state from Godfatherism, among other issues.
He said this during his appearance on Channels Television's Sunday Politics while explaining the rationale behind his campaign tag #SetLagosFree.
Agbaje also stated that Lagos is being run like a private company because it has "refused to domesticate its Freedom of Information bill", a situation he believes does not allow for accountability in governance.
He said, "Lagos is still run like a closed-shop, it is like a private company. Lagos has refused to domesticate its Freedom of Information bill. So, we don't know what plays out in Lagos.
"We are talking about freedom in the sense that we want to be able to have access to exactly how they are running our government. We talk about freedom where in the last 20 years, Lagos has spent some N7 trillion and we are asking, 'Have we got value for money?".
Speaking further, the PDP candidate alleged that out of the N7 trillion, a company, Alphabeta, receives a certain percentage which is he says is not being accounted for.
He said, "Out of that N7 trillion, there is a private company that takes a percentage and we are asking, for what purpose.
"There's a private company or fund collector, Alphabeta of whatever, we don't even know how much the percentage is. It could be 12 per cent, 10, eight or six."
When asked about the legality of the company, he said "It's not about being legal, it's about being moral".
"If you tell me that every amount of money that Lagos collects, there is a private company that is collecting, that's taxpayers money and I'm asking why should it be and to what purpose?
"These people that collect money, we don't see them, we don't see their staff – It is against standard practice.
Giving an analogy, he said, "A law was made for waste management and the same company was tied to the law… that's what we are saying, its freedom from Godfatherism, freedom from arrogance, when you make a law and you put a private company as the recipient, that is the height of it and that's what we are saying, that it is freedom from bondage from so many things".
Agbaje said he is confident that he would win the governorship election.
He explained that although he had said in 2015 that he would not run again, plans changed, especially because there were no young indigenous Lagosian available to take up the challenge.
"I wasn't declared winner the last time (2015) but I am going to win this time and be declared the winner because it's going to be a race that will be so clear.
"Even though I didn't want to run, I felt that (after my run in 2015) if I didn't win, we could get a younger person to run but in all honesty I've spent the last two years trying to encourage younger indigenous Lagosians to see who would be able to run that we would be able to back up but we, unfortunately, didn't get any and for me, Lagos could not continue in the way it has been running.
"All the younger ones were running for president but none of them is indigenous Lagosian, so we couldn't get any and so we decided that why not," he said.
Speaking about his relationship with former Lagos State Governor and chieftain of the All Progressives Congress (APC), Bola Tinubu, he said there was no feud between them and whatever disagreement they may have had in the past was merely an issue of "principles".
"I think its very wrong to say there was a feud, there's never been a feud between myself and Bola Tinubu.
"In 2007, I felt that the way democracy was being practiced by him, was not the way I understood democracy to be practiced so I took the option of opting out," Agbaje said.