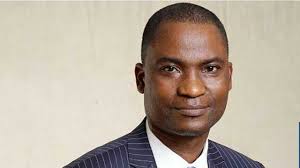 Allianz Group, one of the leading insurers and asset managers in the world has unveiled its local operating entity in Nigeria, Allianz Nigeria Insurance Plc.
Allianz Nigeria Insurance Plc launch which marks the official entry of the global insurance giant, Allianz, into Nigeria market on January 25, 2019, is germane to the growth of the industry and the nation's economy at large.
The brand launch ceremony which held in Lagos, attracted guests from the local insurance industry, business leaders, the German business community in Nigeria, Media partners, government stakeholders, senior executives of Allianz Group and staff of Allianz Nigeria.
Allianz Nigeria Insurance Plc (Allianz Nigeria) which was formerly known as Ensure Insurance Plc, was acquired by the Allianz Group in July 2018.
The Group which recently fulfilled all the regulatory requirements to rebrand the company to Allianz Nigeria, has been licensed by the Nigeria insurance industry regulator, the National Insurance Commission (NAICOM) to transact life and non-life insurance businesses.
Speaking at the launch, the Managing Director, Sunkanmi Adekeye, noted that in the nearly two decades of this century, Nigeria has witnessed significant population growth and a rapid transformation in the areas of financial services provision, digital disruption, telecommunication, and accessibility to the internet, adding that as Africa's most populous nation, Nigeria represents the power-house of human capital on the continent and is one of the most dynamic economies in Africa.
"By launching in Nigeria, Allianz gains full access to this key insurance market in Africa, and this marks a major milestone for Allianz long-term growth strategy on the continent.  This new step of development, will allow us to contribute to offering the best products and services to Nigerian customers in both personal and commercial lines. We are optimistic about the limitless potential of this future growth market." Adekeye said.
He said Allianz currently offers micro-insurance solutions to 500,000 low-income households on the continent. "This is a business opportunity we look forward to exploiting in full," he assured.
In a bid to tackle contemporary risk for businesses in the area of cyber security, he said "we will like to look more closely into cyber liability insurance (CLIC) coverage in this fast growing market."
He said as a Composite insurer, they are licensed to transact both life and Personal and Commercial (P/C) insurances.
"Actually, we are licensed in Nigeria to transact both Life and P&C as a composite insurance company. However, the fact is that P/C insurance remains the single largest source of profit. It is also the segment where we currently see the largest upside. Therefore, operating profit from P/C should grow disproportionately at around five per cent per year – based on an ambitious target for the combined ratio of 95% driven in particular by productive improvements that lower the expense ratio. Efficient use of shareholders' equity as part of our capital management demands that we make significant investments to grow this profitable line of business, the MD said.
Allianz Nigeria is reputed for strong management team from diverse backgrounds with an average of 10 years' experience in financial services sector; made up of young and dynamic workforce with highly experienced board of directors.
Allianz Africa Regional Chief Executive Officer, Coenraad Vrolijk speaking at the launch said in Africa, Allianz is currently in 17 countries and accompanies clients in 39 countries
He said Allianz customers benefit from a broad range of Personal and Corporate insurance services, ranging from Property, Life and Health insurance to Assistance Services to Credit Insurance. The Allianz Group is one of the world's largest investors, managing over 650 billion euros on behalf of its insurance customers, while their asset managers – Allianz Global Investors and PIMCO – manage an additional 1.4 trillion euros of third-party assets. In 2017, over 140,000 employees in more than 70 countries achieved total revenue of 126 billion euros and an operating profit of 11 billion euros for the Group.
The Allianz Group is headquartered in Munich, Germany.