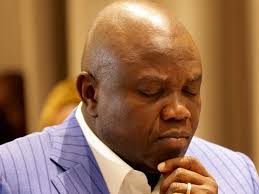 Governor Akinwunmi Ambode on Wednesday congratulated Jide Sanwo-Olu, his opponent in the All Progressives Congress governorship primary election in Lagos State for emerging the winner.
He shared his congratulatory message at a press conference.
Ambode reportedly urged members of the APC to support Sanwo-Olu, winner of the party's Lagos governorship primary.
"Dear Lagosians, APC is a great party and the interests of our beloved State must always supersede that of any person or group. It is in this regard that I wholeheartedly congratulate the winner of the Lagos State APC Primaries, Mr. Babajide Sanwo-Olu and urge all Lagosians to immediately support our party's gubernatorial candidate in the 2019 elections and work for the success of our dear party," he said.
He promised to do everything possible to ensure a smooth transition in the remaining period of his administration.
He also urged his supporters to unite behind the candidate of the party, saying: "The progress of Lagos state is non-negotiable. It is a project that I have passionately worked for in the last three and half years as your Governor and one to which I will forever be devoted."
The party earlier declared Sanwo-Olu winner of the controversial primary, saying Ambode polled 72,901 votes while Sanwo-Olu, Bola Tinubu's candidated, had 970,851.