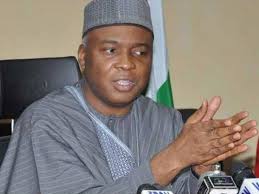 The National Minimum Wage Act CAP N61 LFN (repeal and re-enactment) Bill, 2019, has been read for the third time and passed by the Senate on Tuesday.
A report by the Ad hoc committee on National minimum wage was presented by Senator Francis Alimikhena.
The Senate then dissolved into the Committee of the Whole for the clause by clause consideration of the report of the Ad-hoc Committee.
During deliberation on the report of the committee, Senator Ahmad Lawan said, "The Ad-hoc Committee promised to give a new minimum wage to Nigerians and they have fulfilled the promise. This gesture should be appreciated. We do not have to wait until we are threatened with strike action before we take action. The Nigerian workers must show that the government is paying them and they are paying the government in service."
After the bill was passed, Senate President Bukola Saraki said, "I want to commend the leaders of the organisations of the union. Let me also state that as government, we should ensure that at times like these, we should not wait for there to be strikes to do what is truly deserving for our workers."