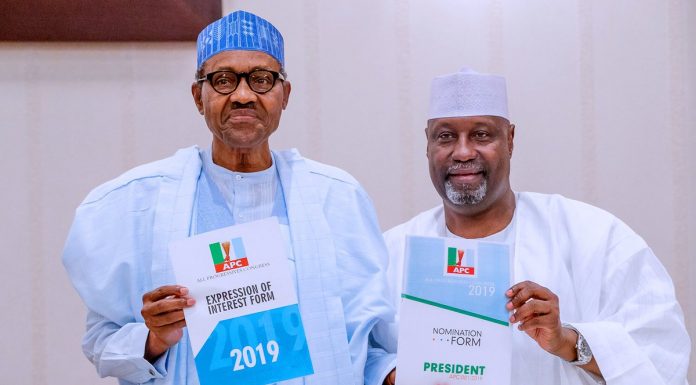 President Muhammadu Buhari has received the All Progressives Congress (APC) expression of interest and nomination form for his second term presidential aspiration.
The form was presented to him on Tuesday by members of a group called National Consolidation Ambassadors Network (NCAN) at the presidential villa.
The nomination form was delivered to the President by 11:30 a.m. at New Banquet Hall, Presidential Villa, Abuja.
Human Rights lawyer and spokesperson of President Buhari's Campaign Team, Festus Keyamo; Secretary to the Government of the Federation (SGF), Boss Mustapha and Minister Of Transport, Rotimi Amaechi were also at the presentation.
President Buhari while receiving the form took a swipe at those whom he said put personal interest above national interest and because of this have exited the party leaving patriotic party members to continue the struggle describing them as weak politicians.
The APC, in July, suffered a gale of defections involving three governors and dozens of federal lawmakers, including Senate President Bukola Saraki.
The governors are Samuel Ortom of Benue, Aminu Tambuwal of Sokoto and Abdulfatah Ahmed of Kwara.
Referring to the incident on Tuesday, Buhari said: "The weakest whose sense of expectation do not align with our vision have exited our party."
Alleging that corruption was fighting back, Buhari said, "We now have a party of strong and patriotic people who are ready to work for a strong Nigeria."
The president expressed his pleasure for being honoured by the group, made up of youth from different parts of the country, which raised N50 million to buy the form for him.
"I am honoured today to receive youth from all over the country contributing to buy the form for me."
The Deputy Chairman of NCAN, Chukwuemeka Nwajiuba, in his opening remarks, said the group that purchased the Expression of Interest Form for President Buhari was made up of three million Nigerians, some of who contributed as little as N68 to purchase the form after "a triple A assessment of the performance of President Buhari."