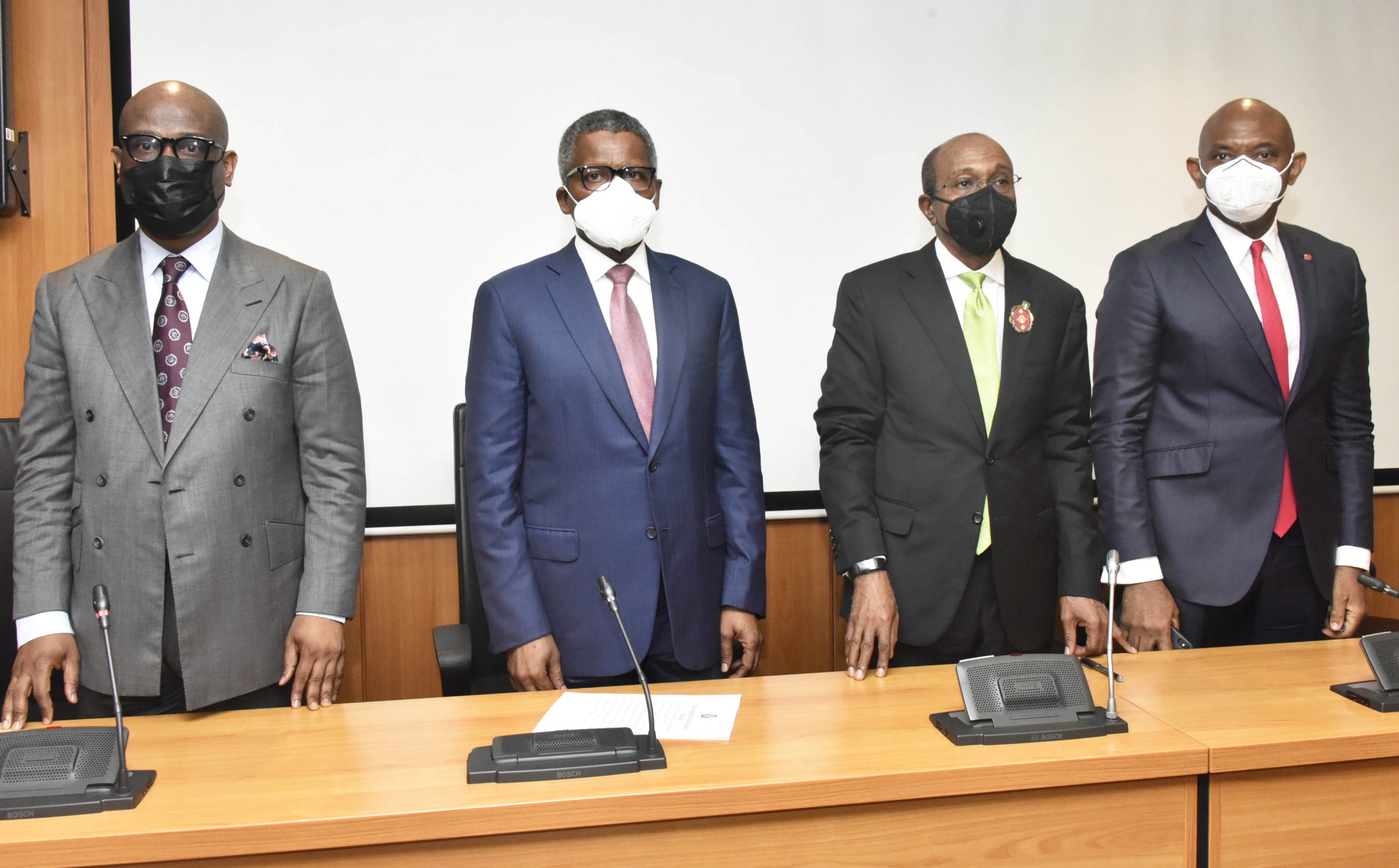 The private sector led Coalition against COVID-19 (CACOVID) has said it is set to spend more than N315 billion on rebuilding police stations, training and setting up young people in several vocations across the country.
This is aside the special loan targeted at helping businesses which had been adversely affected by the EndSARS violence, so as to help them renovate and restock to be able to continue in businesses.
This was made known by the governor of the Central Bank of Nigeria (CBN), Godwin Emefiele, during a press conference in Lagos yesterday.
Emefiele, who noted that N39.64 billion had been received from over 200 corporate and individuals, said N43.27 billion has so far been expended.
In his breakdown of the spending, he said, N4.19 billion had been spent to build 39 isolation centres across the country, N9.01 billion on that list and medical supplies and N28.76 billion for food palliatives.
He called on the private sector to support the  According to him, N100 billion would be used to fully rehabilitate all 44 police stations that were ravaged during the violence that ensued with EndSARS protests and but equipment and ammunition for the Nigerian Police.
He said, "CACOVID has committed to fully rehabilitate all 44 damaged and destroyed police stations nationwide in a bid to restore provision of security in affected locations. To further strengthen the security apparatus in the country, CACOVID has committed to provide over N100 billion to procure equipment and gadgets for the Nigerian Police Force over the next two years; as our contribution to fully modernise the Nigerian Police."
To douse the impact of the crisis and pandemic on unemployment, Emefiele said, "CACOVID has committed to create a high impact youth development program that will provide technical and vocational education to over four million Nigerian youths over the next five years.
"Students will be trained on craftwork, plumbing, masonry, capentry, and other artisanal related skills for which sufficient demand exist in Nigeria . Over N150 billion is expected to be deployed towards the set up and implementation of the youth development program, which will be available at select training centers across the country."
Also CACOVID is expected to set aside N25 billion to support entrepreneurs and another N40 billion in conjunction with the Bankers Committee for  out of school graduates that possess entrepreneurial  skills.
On his part, president of the Dangote Group, Alhaji Aliko Dangote said, "We want  to make sure that we have a database so that you don't just call an armed robber to your house. You can go into that data and call someone. we all have repairs and with that data you can know who to call for repairs.
"What we are doing is that we are providing them with money to buy tools. So as soon as they get the training which is free, which we are paying for, then they have the guarantee that they get jobs.
"We have almost about 30,000 workers in our Lekki site which we are planning to get to 50,000, and 25 to 28 per cent maximum will be foreign workers while the rest will be Nigerians who will be trained on the job as we are going through these buildings by the time that we finish we are going to have lots of people who are trained on the job. It means that we don't need to bring in anybody for mega projects."