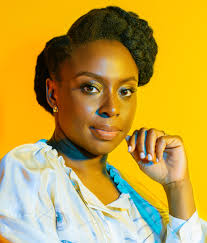 Nigerian author, Chimamanda Adichie, has been conferred with a humanitarian award at the 2018 Action Against Hunger Gala.
The Action Against Hunger Humanitarian Award, is given to individuals and corporations that have made significant contributions to the humanitarian field.
Adichie was presented with the award by CEO of the organisation, Andrea Tamburini, in New York.
Annually, hundreds of Action Against Hunger's most dedicated supporters come together for an evening of inspiration, hope and to reflect upon Action Against Hunger's mission to save the lives of children worldwide.
Other past Humanitarian Awards recipients include Anderson Cooper, Tyco International, The United Nations Food and Agriculture Organization and its Director-General Dr. Jacques Diouf, Visa, Procter & Gamble, and Wall Street Journal reporters Roger Thurow and Scott Kilman.
Adichie was recently honoured with the Special Distinction for Thought Leadership award by the Global Hope Coalition.