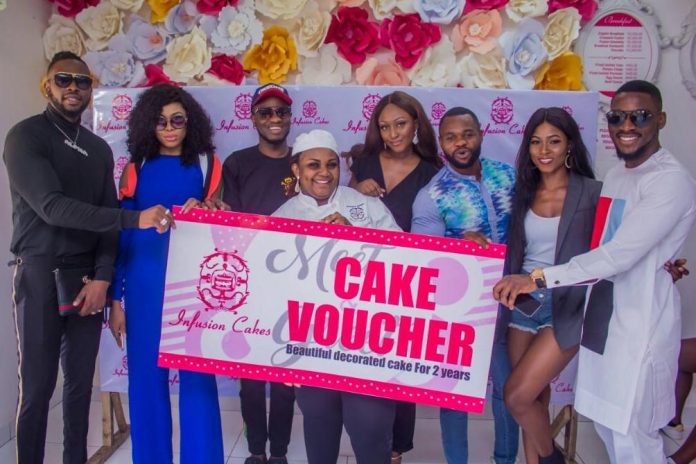 Infusion Cakes & Cafe, a Lagos-based confectionery firm, has hosted ex-housemates of the reality TV show, Big Brother Nigeria (BBNaija), in a meet and greet session in Lagos recently.
Founder and chief executive of Infusion Cakes & Cafe, Mrs. Ibigbeye Okobi said the company decided to host the BBNaija ex-housemates because "We really enjoyed the free spirit they exhibited, how natural they were and how they were able to get Nigerians to actually get engaged in everything they did while in the house."
Okobi said the management of Infusion Cakes & Cafe also felt that the location of the company in the highbrow Lekki area of Lagos would serve as an excellent platform for Nigerians who were keen to meet the ex-housemates, get to know and interact with them in a friendly and hospitable environment to really appreciate them.
Infusion Cakes & Cafe is a modern bakery and cafe where customers can get a combination of international and locally made cakes, coffee, pastries and desserts for refreshment, weddings and special occasions like birthdays and anniversaries, among others.
The highlight of the event was a competition for the decoration of cakes. Participants in the competition included the reigning Miss Nigeria, Miss Mildred Peace Ehiguese; one of the BBNaija ex-housemates, Anto; and a representative of Team Definition, a band of musical artistes which entertained guests at the session.
At the end of the competition which created a lot of buzz and excitement, Anto's cake was adjudged as the best. The winning cake was then auctioned for N20, 000 and the amount donated to charity.
An elated Okobi expressed the company's delight at hosting the BBNaija ex-housemates. She disclosed that Infusion Cakes & Cafe which had been in the business of making high-quality cakes and other confectionery products in the last two years is making steady progress. "Since we started, people have been patronising us and we are growing steadily," she said.
Okobi is a graduate of International Culinary Centre New York, formerly known as French Culinary Institute where she studied cake techniques and designs under the tutelage of Ron Ben-Israel, an Israeli-American pastry chef renowned for his wedding and special occasion cakes and for his detail in sugar paste flowers.