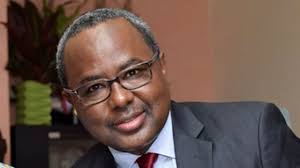 The National Industrial Court, Abuja, on Wednesday granted three applications filed by the suspended Director-General of Securities and Exchange Commission, Mounir Gwarzo.
The News Agency of Nigeria recalls that Gwarzo was suspended in November 2017 by the erstwhile Minister of Finance, Mrs. Kemi Adeosun, over alleged financial misappropriation.
Gwarzo is seeking a declaration that his appointment as DG of SEC was valid, legal and subsisting, among other claims.
In the resumed hearing, Gwarzo's counsel, Adetayo Adeyemi, told the court that he had three applications before the court.
Adeyemi listed them as application for extension of time, which was supported by an eight-paragraph affidavit.
The extension of time, according to Adeyemi, is in order for him to reply to the preliminary objection earlier raised by SEC's counsel.
The claimant's counsel also sought for an extension of time to file all other necessary documents, including his written address.
The other application filed by Adeyemi is for all other pending applications in the suit to be taken together.
The judge, Justice Sanusi Kado, in his ruling, granted all the applications as the defendants' counsel did not oppose the application.
Abdullahi Abubakar, counsel to the Attorney-General of the Federation, one of the respondents who was appearing for the first time, also sought for extension of time.
He said that he filed the application on October 19 to enable him file the necessary documents in the suit.
Kado also granted the counsel's application and told all parties to regularise their processes.
There was no legal representation for the Minister of Finance, also joined as respondent; while the case was adjourned until November 29 for hearing of pending applications.
(NAN)