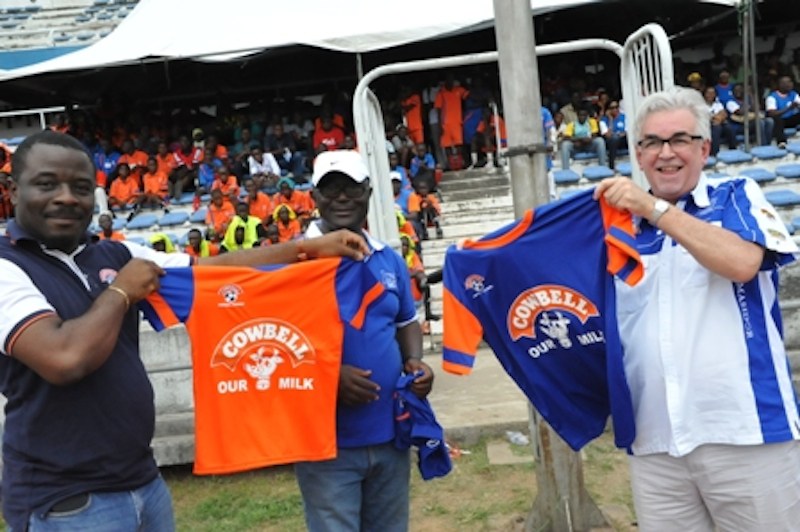 Scholarship opportunities in foreign sports universities will be explored for talented children currently in training at Cowbell Football Academy (CFA), organised by Promasidor Nigeria Limited, a leading provider of quality food products.
The 2017 edition of the yearly Cowbell Football Academy Summer Camp, which runs till August 12, 2017 at the National Stadium, Surulere, Lagos, has 125 participants, and is open to children between the ages of five and 17. They are being taught character building, individual technical development, small-side games, team competition, mental training, goal keeping training, fun game and more.
Speaking on the initiative, the Chief Executive Officer, Multisports Services & Entertainment Limited, Godwin Dudu-Orumen, who is the coordinator of programme and the Rector of CFA, said Cowbell Football Academy has opened up channels with coaches in football-playing universities in the United States of America and other major Western countries to grant scholarships to outstanding talents with the requisite educational qualification.
He said the opportunities are also available in tertiary institutions locally and that the academy would send videos to the target schools to enable them appreciate the skills available in the academy.
Dudu-Orumen said the academy would develop the trainees further for scholarship, if the schools showed interested in any of them. "We explore opportunities both locally and internationally for any of the children that meets the conditions for scholarship, as they also need to be educated before they can play for any global team because the rules for acceptance in international teams have changed," he affirmed.
Cowbell Football Academy with 500 participants runs in Surulere, Lufasi Nature Park, Lekki, and Badagry all in Lagos and Benin City. But the summer camp programme holds only at the Lufasi Nature Park and Surulere.
Dudu-Orumen said that other centres would be incorporated into the programme in 2018.
Meanwhile, parents of participants have commended Cowbell for putting up such an initiative that helps to spur children's interest in football. Dada Ajai-Ikhile, an advertising practitioner, whose child from Grace High School, Gbagada, Lagos is at the academy, said Promasidor has done well in ensuring that children learn the rudiments of football at an early age and to develop the interest in it. He stated that this would lead to a pool of professional footballers that would make the country proud in future.
Obayemi Praise, who has her children from Ostria Private School and Deeper Life High School at the academy, said she was quite impressed with what Promasidor has done on the yearly initiative, which has helped to fire up children's interest in football.
"The coaches are putting in their best to enhance the skills of the children and my sons are keen on becoming footballers in future, after attaining tertiary education," she said.
At the commencement of the camp, Segun Odegbami, ex-Nigerian international footballer, motivated the children to develop interest and skills for the game. He told them how he combined engineering studies and football, and still played for Nigeria.