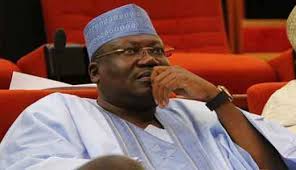 Senate Majority Leader Ahmed Lawan has said members of the National Assembly who defected from the ruling All Progressives Congress (APC) will return to the party before the general elections in 2019.
Lawan made the comforting statement after the party's senators met President Muhammadu Buhari at the Presidential Villa in Abuja.
The lawmaker revealed that the President, during the meeting which lasted for about 30 minutes, was briefed about the number of APC senators which he said was 53.
He added that the Peoples Democratic Party (PDP) has the largest minority with 48 members of the Senate while the African Democratic Congress (ADC) has two senators.
Senator Lawan noted that less than 24 hours after 14 of their colleagues defected from the APC, they have shown willingness to retrace their steps.
He revealed that while the defection was as a result of disagreements in the party, the defected lawmakers expect some members from the opposition party to join the ruling party.
The lawmaker representing Kaduna Central, Senator Shehu Sani, also attended the meeting, but said it does not mean that all his grievances have been addressed.
Sani was confident that the leadership of the party chaired by former Edo State Governor Adams Oshiomhole would be able to resolve all contending issues within the party.
Mr Oshiomhole, who also attended the meeting, told State House correspondents that those defected from the APC were misinformed.