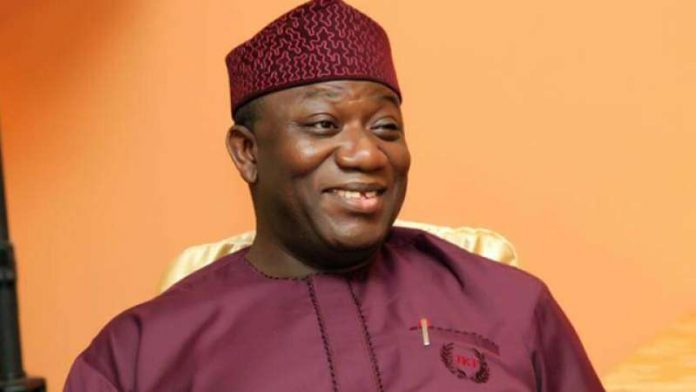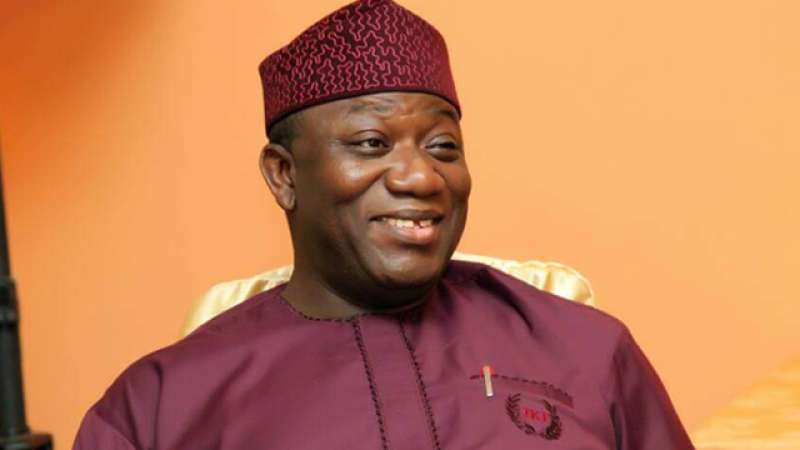 … Buhari Has Proven That He's A Dictator – Fayose Speaks
Kayode Fayemi, candidate of the All Progressives Congress (APC), has been announced winner of the 2018 governorship election in Ekiti state.
He was victorious in 12 out of the 16 local government areas of the state, polling 197,459 votes, and edging out his closest rival, Kolapo Olusola of the Peoples Democratic Party (PDP), had 178,121 votes, leaving a margin of 19,338.
Based on the votes secured, INEC's Chief Returning Officer for the election, Professor Idowu Olayinka, declared Fayemi the winner on Sunday morning.
However, the PDP candidate has rejected the results claiming irregularities.
Unlike the last governorship election in the state when he lost in all the 16 local government areas to incumbent Ayodele Fayose, Fayemi secured victory in 12 local government areas, leaving Olusola with four LGAs.
The collation of results at the Independent National Electoral Commission (INEC) Secretariat in Ado-Ekiti began around 2:30 am on Sunday with after an address by the Resident Electoral Commissioner, Professor AbdulGaniy Raji.
Voting in the keenly contested governorship election had ended in most polling units in the state by 2 pm on Saturday after which sorting of ballots and collation of results took place at the polling unit and local government level.
The election was a 2-way race between Fayemi, a former Governor of the State and Olusola, who is also the current Deputy Governor of the state fully backed by his boss, Fayose.
Although over 30 candidates contested in the election, it was a two-horse race between Fayemi and Olusola.
35 political parties participated in the election across 2,195 polling units in 16 local government areas.
Meanwhile, Governor of Ekiti State, Ayodele Fayose, has declared that the conduct of the gubernatorial election in the state is proof that President Muhammadu Buhari is a dictator.
Fayose was reacting to the loss he suffered in the polls to Dr. Kayode Fayemi of the All Progressives Congress (APC).
Although he was not on the ballot paper, Fayose had personalized the election saying it was himself versus the President.
Before the election, he had boasted severely that the Peoples Democratic Party (PDP), whose candidate, Prof Kolapo Olusola, is his deputy, would win effortlessly.
However, following the declaration of Fayemi as the winner, Fayose has blasted the President insisting he is not a democrat.
"On this Ekiti election, President Buhari demonstrated truly that he is not a democrat, but a dictator and fascist per excellence," he tweeted on Monday.
This was Fayose's first public reaction to the outcome of the election.
Below are the results of the Ekiti State Governorship election as formally declared by INEC.
IREPODUN/IFELODUN LGA
APC – 13, 869
PDP – 11, 456
ILEJEMEJE LGA
APC – 4, 153
PDP – 3, 930
IDO-OSI LGA
APC – 12, 342
PDP – 11, 145
OYE LGA
APC – 14, 999
PDP – 11, 271
EFON LGA
APC – 5, 028
PDP – 5, 192
MOBA LGA
APC – 11, 837
PDP – 8, 520
IJERO LGA
APC – 14, 192
PDP – 11, 077
GBONYIN LGA
APC – 11, 498
PDP – 8, 027
EMURE LGA
APC – 7, 048
PDP – 7, 121
IKERE LGA
APC – 11, 515
PDP – 17, 183
EKITI WEST LGA
APC – 12, 648
PDP – 10, 137
IKOLE LGA
APC – 14, 522
PDP – 13, 961
ISE/ORUN LGA
APC – 11, 908
PDP – 6, 290
EKITI EAST LGA
APC – 12, 778
PDP – 11, 564
EKITI SOUTH WEST LGA
APC – 11, 015
PDP – 8, 423
ADO-EKITI LGA
APC – 28, 111
PDP – 32, 810
Total
APC -197,459
PDP -178,121