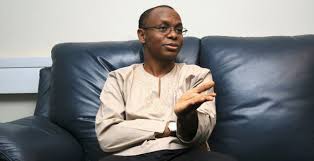 The Governor of Kaduna State, Mallam Nasir Ahmad el-Rufai, has commended Nigerian Breweries Plc for its role in the economic development of the state stressing that the company remains the biggest tax payer in Kaduna State.
The Governor, who was at Nigerian Breweries Stand at the just concluded Kaduna Economic and Investment Summit (KadInvest 2.0), said Nigerian Breweries plays a big role in the state as far as investment and economic growth are concerned and remains a concrete testimony of the friendly business and investment environment the state is promoting.
The Governor maintained that Nigerian Breweries was a shining example in corporate Nigeria and a strategic partner for development in the state given its huge investments and social intervention programmes in Kaduna.
Earlier, while welcoming the Governor and his entourage to the stand, the Corporate Affairs Adviser of Nigerian Breweries Plc, Mr. Kufre Ekanem, said Kaduna State was a friendly environment for investment and has been home to Nigerian Breweries since 1964 when its first brewery was built in Kakuri.
Ekanem thanked the Kaduna State Government for its support over the years stressing that the company will continue to be a partner for growth and development in the state in line with its commitment to supporting the development aspirations of its host governments and communities.
He commended the Governor for his commitment to the promotion of investment and economic growth in the state, pointing out that Kaduna remains a home for Nigerian Breweries given its successful operations in the state for over 50 years.
"We want to remain an active development partner to the state and look forward to working closely with you in this regard," he said. "This is what informs our support not only for this Summit but also other initiatives designed to make the business environment in Kaduna more conducive and friendly."
Nigerian Breweries Plc is the leading and pioneer brewing company in Nigeria and the second most capitalised company on the Nigerian Stock Exchange. With over 120,000 indigenous shareholders, the company supports an employment impact of over 500,000 people through its value chain. Nigerian Breweries currently operates two breweries and one malting plant in
Kaduna State and has continued to make strategic interventions in the development of education, health, water, agriculture, sports, etc in the state.