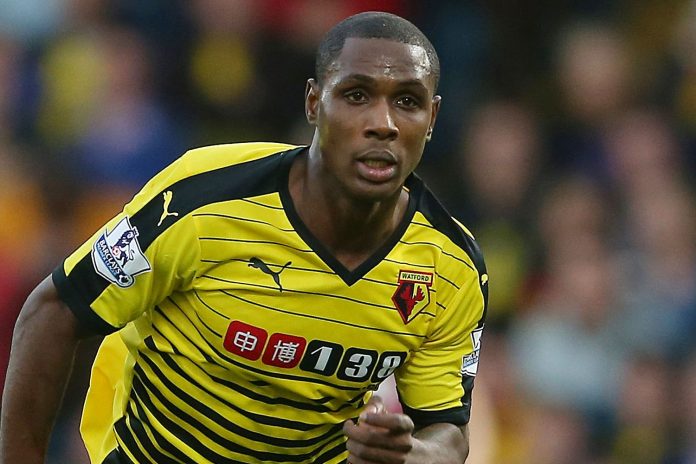 Fetus Abu
Watford are  hoping to ignite a bidding war  between Premier League powerhouses Arsenal and Manchester United for their striker Odion Ighalo, according to reports  in the British media on Tuesday.
Ighalo, who has been in superb form this season scoring   14 Premier League goals  and two  the FA Cup goals, has  since attracted interest from Arsenal, United, Roma   and La Liga title contenders Atletico Madrid.
The  Super Eagles player revealed in January that he would only leave Watford for Manchester United.
"I don't think I will be moving but I'm not sure I could say no if United called," The Sun had quoted  the 26-year-old, who lost his father recently,   as saying.
"They were my team growing up. I loved watching Andy Cole and Dwight Yorke.
"They were my idols and playing at Old Trafford has always been a dream."
Under-fire Gunners manager Arsene Wenger has reportedly identified Ighalo as one of the strikers to replace French flop Olivier Giroud, who is one of the players said  to be heading for the Emirates exit doors in the summer.
According to the Daily Star, Manchester United, who are desperate to  strengthen their attack ahead of next season, have revived their interest in Ighalo.
Watford sports consultant Nicola Salerno   hinted  recently that the player could be sold in the summer. The 59-year-old Italian  told TMW Radio,  "Everything will depend on what offers we get for Ighalo.
"He is an extraordinary player who could interest a lot of clubs. He has done really well this season, scoring so many goals.
"Unfortunately in the second half of the season we had a dip, but he was decisive. I saw huge growth in the player, he knows how to score in every way. "He's an extraordinary footballer and many teams could be interested."
Copyright PUNCH.
All rights reserved. This material, and other digital content on this website, may not be reproduced, published, broadcast, rewritten or redistributed in whole or in part without prior express written permission from PUNCH.
Contact: editor@punchng.com
The post English giants set for Ighalo clash appeared first on Punch Newspapers.