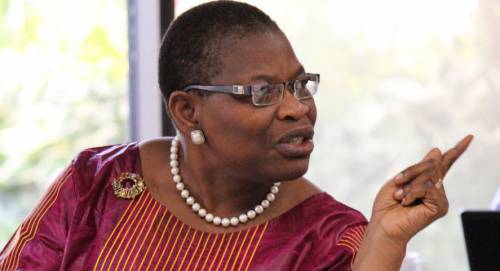 Former Minister of Education, Oby Ezekwesili took aim at President Muhammadu Buhari Wednesday night in an intense condemnation of the "dangerous" action of the military in the South-East, code name Operation Python Dance 2.
"Worst is when a leader makes enemies of most because he abhors the action of one or a few. That is not leadership! That is ethnic prejudice. A real leader does not suffer from the destructive disease of ethnic prejudice. It endangers his/her people and real leaders cannot bear such, she said in a series of tweets.
"It is the lowest form of churlishness that is unbecoming of a leader to send signals that you dislike anyone of the groups you lead. A leader is a winner. When a winner acts like a loser, things go wrong in their kingdom. Real leaders build a bond with all their people.
"It is tragic that you, our President, Muhammadu Buhari, have deliberately or inadvertently alienated a segment of the people you lead. It is tragic."
"The leader builds up groups. Not divide. You cannot lead only those that worship and swear by you. You are the leader. You must carry the burden even of those that detest you."
Meanwhile, Activist-lawyer Femi Falana (SAN) said that President Buhari should direct the armed troops who have invaded Aba in Abia State to withdraw and return to their barracks forthwith.
"I wish to submit, without any fear of contradiction, that the deployment of armed troops in Abia state and the house arrest of Mr. Kanu are illegal and unconstitutional," Falana said in a statement.
"At the same time, the Commissioner of Police in Abia state should be allowed to take over the case of Mr. Kanu in line with the provisions of the Constitution and the Police Act.
"If he is indicted in the investigation that is expected to be conducted by the Police he should be charged to court as he is not above the law.
"But on no account the army should the army be involved in the arrest, investigation and possible prosecution of Mr. Kanu or any other civilian in the country," Falana said in a statement
PER SECOND NEWS reports that in recent days there have seen clashes between supporters of the Indigenous People of Biafra (IPOB), which wants independence for the dominant Igbo ethnic group, and the military.
On Sunday, IPOB claimed five of its members were killed but the army described the claims as "fictitious" and "far from the truth".
IPOB leader Nnamdi Kanu has been charged with treasonable felony and is currently on bail pending the resumption of his trial in the capital, Abuja, next month.
Tensions have risen since he was freed from custody in April, with the government accusing him of breaching his bail conditions.
Rising tensions prompted the governor of Abia state, where the leader's residence is located, to impose a curfew.