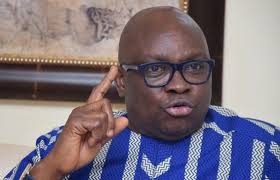 The N2.2bn fraud trial of the immediate past Governor of Ekiti State, Ayodele Fayose, was stalled on Thursday due to the absence of the prosecution's star witness, Musiliu Obanikoro.
The prosecuting counsel for the Economic and Financial Crimes Commission, Rotimi Jacobs (SAN), told the judge that Obanikoro, who was in court only on Tuesday testifying against Fayose, had been hospitalised.
Jacobs presented to the court a medical report from an Ikoyi hospital, stating that Obanikoro was unwell.
But receiving the report with misgivings, Justice Mojisola Olatoregun said it had better been genuine or the hospital and the doctor that issued it risked the loss of their licences, if the court verified the report and it was not genuine.
While adjourning the case till March 18, Justice Olatoregun said Obanikoro must unfailingly come to court, or risked being committed to prison for three months, "so that he can be coming to court in Black Maria."
"He must present himself before the court on the next adjourned date or be compelled to do so," Justice Olatoregun stressed.
Obanikoro is testifying against Fayose, who was his ally in the People's Democratic Party before he (Obanikoro) decamped to the ruling All Progressives Congress.