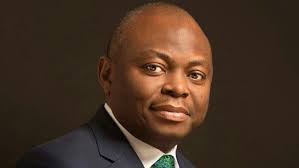 Fidelity Bank Plc will be conducting its 2019Annual General Meeting (AGM) through the use of proxies by shareholders.
This is due to partial shutdown of business activities and capital market operations as precautionary measure to curtail the spread of the coronavirus (Covid-19) pandemic.
This announcement is contained in a notification, which was sent by the bank to its shareholders and the Nigerian Stock Exchange (NSE) as this is to adhere to the directives of the Federal and Lagos State governments.
The bank's 32nd annual general meeting will be holding in Lagos on April 30, 2020 and the shareholders will be requested to vote in favour of the Resolution to declare a total dividend of N5.795 billion; representing 20 kobo per ordinary share, to enable the directors of the Company pay the recommended dividend.
For the year ended December 31, 2019, the directors recommended payment of a dividend of 20 kobo per ordinary share. Section 379 (3) of CAMA stipulated that, the General Meeting has the power to approve or decrease the amount of dividend recommended by the Directors, but not to increase the said sum.
If approval of the recommended dividend is obtained at the AGM, dividend will be paid on April 30, 2020 to shareholders whose names are recorded in the company's register of members at the close of business on April 17, 2020. Shareholders who have mandated their dividend to their bank accounts will be credited on the same date.
The bank stated that it is aware of the unique challenges posed by the Coronavirus pandemic and mindful of the need for all to take action to check the spread of the virus, saying that to this end, the bank had earlier activated its internal Covid-19 response plan, in addition to implementing the safety measures recommended by the government and health authorities.
It added that to ensure the safe conduct of the 32nd AGM in accordance with the guidelines issued by the Nigeria Centre For Disease Control and the Corporate Affairs Commission (CAC), shareholders are hereby notified that attendance shall only be by proxy and shall be limited to a maximum of 25 people, the maximum crowd size currently permitted by Lagos State Government, the host city for the meeting.
It further said "In view of the foregoing, shareholders are encouraged to appoint proxies to represent them at the meeting. A member entitled to attend and vote at the AGM may appoint a Proxy to attend and vote in his or her stead as a Proxy need not be a member of the Company."