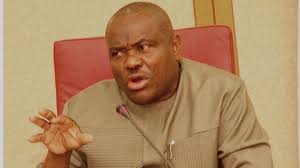 The Peoples Democratic Party (PDP) has said it will expel Governor Nyesom Wike and his allies in the G5 Integrity Group should they come out with a declaration to support another presidential candidate apart from Atiku Abubakar, the party's standard bearer.
Sources in the party confirmed that the action of the party will be swift and decisive against Wike and his allies with consequences for the four governors who are either running for re-election or seeking Senate seats.
Wike and his allies are in London for what has been reported as their final decision on forging an alliance with another presidential candidate.
The governors are said to have been swinging between All Progressives Congress, APC presidential candidate Asiwaju Bola Tinubu and Labour Party presidential candidate, Peter Obi with prospects of the G5 governors backing Atiku almost impossible.
Atiku has had different meetings with the Wike group towards reconciliation either directly or through surrogates but the meetings have come to nothing with the governors unyielding in their demand for the exit of Senator Iyorchia Ayu as national chairman.
Reiterating the pledge to deal swiftly with the Wike group, a prominent party operative said, "We are hearing that they want to go with Tinubu or with Obi but let me tell you they will face the music as the party will expel them immediately, and I pity those running for office as PDP will deny them the platform," the source said even as he acknowledged that Wike the leader of the G5 may personally go unscathed.
As part of the strategies against Wike and the G5 governors, it was gathered that besides expulsion, the PDP could turn its arsenal in their states towards alternative party platforms to enable them form coalition with other parties against the incumbent PDP office holders.
An Atiku campaign spokesman denied knowledge of the measures against Wike and his group only saying that the party has its bydisciplinary procedures.