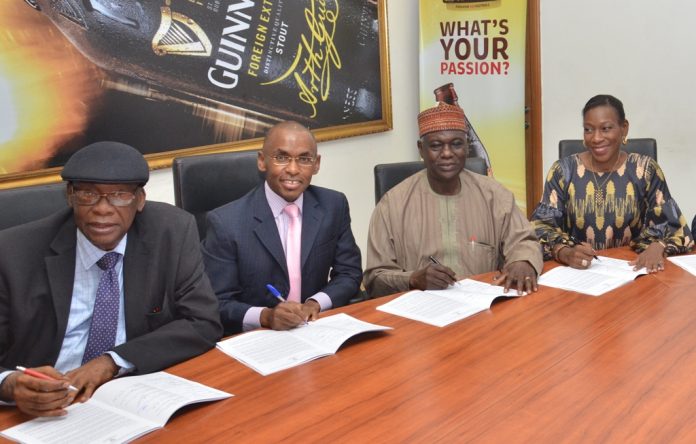 Following shareholder approval received in January, Guinness Nigeria Plc has now received clearance of the issue documents from the Securities and Exchange Commission and approvals from the Nigerian Stock Exchange to list the new Guinness Nigeria shares on The Nigerian Stock Exchange. The funds raised will support the Company in executing its strategy in the context of ongoing external economic challenges.
The company plans to raise N39,700,688,598 by way of rights to existing shareholders, on the basis of 5 new shares for every 11 shares held by shareholders, whose names appeared in the register of members of the Company as at 15 March 2017 at an issue price ofN58 per share. The issue price represents a discount of 15 per cent to the Company's closing share price on 14 March 2017, being the last day prior to the announcement of the proposed Rights Issue by The Nigerian Stock Exchange.
Managing Director of Guinness Nigeria Plc, Peter Ndegwa, said: "This Rights Issue will allow the Company to deliver on its strategic objectives and give all our shareholders a unique opportunity to increase the number of shares they hold. Our expectation is that funds raised will help mitigate the impact of increasing finance costs, optimize our balance sheet and improve the company's financial flexibility."
Also speaking, Chairman, Guinness Nigeria Plc, Babatunde Savage, stated that this process is part of the Company's long term plans to continue to invest in its business in Nigeria. "We have been here in Nigeria for 67 years and, while it has been challenging in recent times for many Nigerian businesses, we remain committed to this market as evidenced by our decision to offer this Rights Issue," he said, adding, "We are grateful for the support that we have received from our shareholders and other stakeholders up to this point."
Last year, Guinness Nigeria Plc became the first total beverage alcohol company in Nigeria by acquiring the rights to distribute international premium spirits like Johnnie Walker whisky and Baileys liqueur in Nigeria and later inaugurated a N4.7billion spirits line for locally manufactured spirits at its Benin plant.
Guinness Nigeria Plc has also been a champion for community development recently. Leveraging its flagship 'Water of Life' scheme, the company has delivered 35 water facilities across 24 states in Nigeria. These facilities have helped provide clean drinking water for over 1.5 million Nigerians.
Stanbic IBTC Capital Limited is acting for Guinness Nigeria Plc as Issuing House for the Rights Issue.