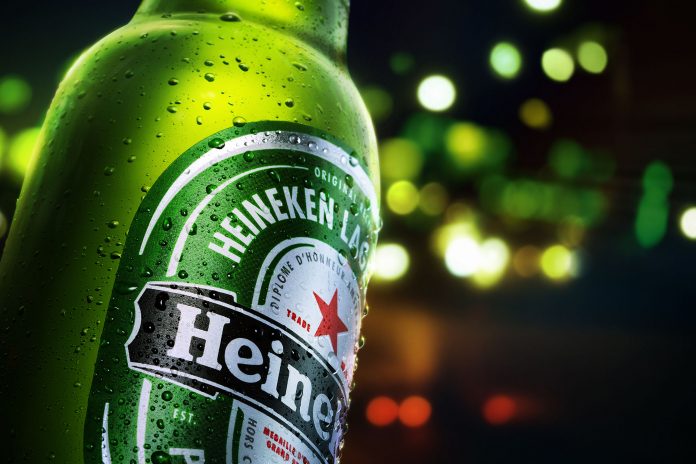 The U.S. beer industry's glass ceiling has finally been shattered. Heineken USA on Tuesday named Maggie Timoney as its CEO, replacing Ronald den Elzen, who is assuming a global role at the Amsterdam-based brewer. Timoney is the first woman to lead a major U.S. beer supplier, according to Heineken.
Timoney joins the U.S. division from Ireland, where she ran Heineken as CEO for the last five years. The move is a return to the States for Timoney, who joined the beer marketer in 1998 in a national sales planning role and was named Heineken USA's senior VP of human resources in 2010.
"Maggie is a competitive and energetic leader who is known for inspiring teams, operationalizing plans and mobilizing organizations to deliver business results,", Heineken Americas Region President Marc Busain said in an announcement, adding that she "over-delivered on volume, revenue, profit and market share targets" in Ireland.
Heineken USA, whose brands include its namesake lager as well as Dos Equis, Tecate and Strongbow, ranks as the nation's fourth-largest U.S. beer supplier with nearly four percent market share, according to Beer Marketer's Insights, which called Timoney the first woman to lead a top five U.S. beer supplier. That list currently also includes Anheuser-Busch InBev, MillerCoors, Constellation (Corona) and Pabst.
The U.S. beer industry remains male-dominated, especially at the wholesaler level, where beer distributorships are often passed down from generation to generation. White males dominate the audience composition at major beer industry conferences. The industry is a bit more diverse at the supplier level, where woman have made steady gains.
High-ranking female executives at MillerCoors include Kelly Grebe, the brewer's general counsel. The chief financial officer at MillerCoors parent company Molson Coors is also a woman, Tracey Joubert. At AB InBev's North American division, by far the largest brewer in the U.S., female executives include U.S. General Counsel Katie Barrett and Ingrid De Ryck, who is VP for procurement and sustainability. But globally at AB InBev, female leadership is lacking: Not a single member of the brewer's 18-member management team is a woman.
"All-male management teams are cutting themselves off from half the talent in the world," Sanford C. Bernstein said in a report in February that examined the gender and ethnic composition of major global alcohol companies. "We also believe that increasing relevance to female drinkers is a huge challenge and opportunity for all the companies." The report added: "The consumption of alcohol was historically dominated by men, and in some countries still is. However, in much of the world, women represent an increasingly significant portion of the consumption base."
The alcohol company with the highest percentage of women leaders is Diageo, where 40 per cent of executive directors are women, according to the report. Diageo's global chief marketing officer is a woman—Syl Saller has held the job since 2013.
In the U.S., the top marketing executive at each of the top top brewers are all men. Heineken USA previously had a woman helming marketing, when Lesya Lysyj was CMO from 2011 to 2013.
AdAge