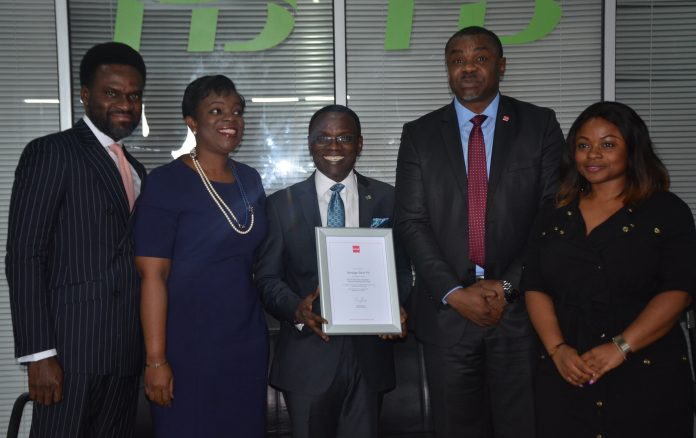 Heritage Bank Plc, Nigeria's Most Innovative Banking Service provider, has assured promoters of Micro, Small and Medium Enterprises (MSMEs) of support to enable them grow their businesses into generational conglomerates.
The MD/CEO of the Bank, Mr. Ifie Sekibo disclosed this in a statement signed by the Divisional Head, Corporate Communications of the bank, Mr. Fela Ibidapo over the weekend.
According to him, Heritage Bank is poised to collaborate with operators of MSMEs to grow them into generational conglomerates, remarking that their desire is for Nigerian businesses to be listed on the stock exchanges and eventually become global brands and household names.
Sekibo noted that surviving in the face of all odds as a business in Nigeria with the present economic situation is not an easy feat, adding that tenacity is a key characteristic of a sustainable business.
He remarked that notable businesses such as Quaker Oats and KFC went through trying times, overcame them, and are now global brands.
"We believe that businesses like yours are the backbone of the economy because you create jobs and play a huge role in moving our country out of this present recession. I encourage you to rise up to this challenge facing every Nigerian entrepreneur and make our economy vibrant again," Sekibo said.
The head of corporate communication noted that the Heritage Bank would support operators in the MSMEs sector to broker new deals and partnerships, adding that a contact today could lead to a business opportunity tomorrow.
He said the bank would create a platform to propel a network of fast growing businesses and urged them to seize the opportunity, network with others as well as engage the bank's SME consultants in their bid to build and develop sustainable businesses.
It will be recalled that in recognition of Heritage Bank's commitment to Small and Medium Enterprises (SMEs) and Youth development, the bank has been adopted by the Central Bank of Nigeria (CBN) as the sole pilot bank for the Youth Innovative Entrepreneurship Development Programme (YIEDP).
The programme is aimed at harnessing the latent entrepreneurial spirit among the teeming youths by providing timely and affordable loans to implement their business ideas.
The major objective of the scheme is to provide a sustainable mechanism to stimulate employment, contribute to the non-oil Gross Domestic Product (GDP) as well as address the challenge of youth restiveness in the country.
Heritage Bank has continued to support The Next Titan is a capacity development  entrepreneurial scheme that has operated in the past four years and  contributed to employment generation in Nigeria.
The scheme is opened to serving youth corps members and non-NYSC members (not more than five years post NYSC) within the age bracket of 18 to 35.