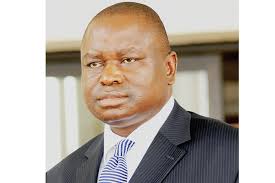 Key members of the Peoples' Democratic Party (PDP), from Igbo-Eze North Local Government in Enugu State on Thursday blessed the gubernatorial ambition of their son,  Senator Ayogu Eze, who is the Governorship candidate of the All Progressives Congress (APC), offering to work for his victory during the 2019 general elections.
In a meeting with the candidate in Abuja on Thursday the leaders which included Hon. Dennis Agbo, PDP member, House of Representatives, representing Igbo Eze North/Udenu Federal Constituency, Dr. Serah Adukwu-Bolujoko, Managing Director, Titsall Global Schools, National President, National Association of Proprietors of Private Schools in Nigeria (NAPPS) and former President and Chairman of Council,  Nigeria Institute of Management (NIM) as well as H. E. Amb. Fidel Ayogu, former APP Minority Leader in the House of Representatives, former Nigerian ambassador to Uganda and former Commissioner for Environment in Enugu State, pledged to back Senator Eze's candidature  with all their teeming supporters.
In a very emotional chit-chat in Abuja the political gladiators embraced Senator Eze, and described him as the best candidate to take Enugu to the next level.
They further offered to provide all necessary support to ensure Eze wins the governorship election holding in March next year, their membership of the opposition Peoples Democratic Party notwithstanding.
Responding, Senator Eze assured them that Enugu under his leadership will experience unprecedented transformational development while getting its fair share of presence from the ruling party at the Federal level.
Eze added that he has designed a robust programme of action that will boost economic growth in Enugu and take development to all the nooks and crannies of the state.
He also assured workers of prompt payment of salaries, gratuities and pensions to ensure that retirees will have no cause to regret having utilized their youthful energy in the service of their State