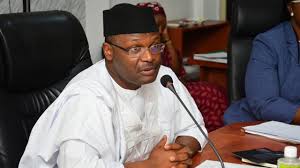 The Inspector General of Police (IGP), Ibrahim Idris and the Chairman of the Independent National Electoral Commission (INEC), Professor Mahmood Yakubu have arrived at Osun State for a meeting with stakeholders.
The arrival of both officials for the stakeholders meeting comes barely five days to the governorship election in the state.
INEC and the police have expressed readiness for the September 22 election in the state, with both agencies vowing to curb vote buying.
INEC Chairman on his part said that collection of the Permanent Voters Cards (PVCs) in the state will end by 5pm today.
According to him, the number of registration areas is 333, polling Units are 3010, and voting points are 3,765.
The state also has three senatorial districts, nine federal constituencies and 26 state constituencies.
In all, Yakubu stated that the total numbers of registered voters are 1,682, 495.