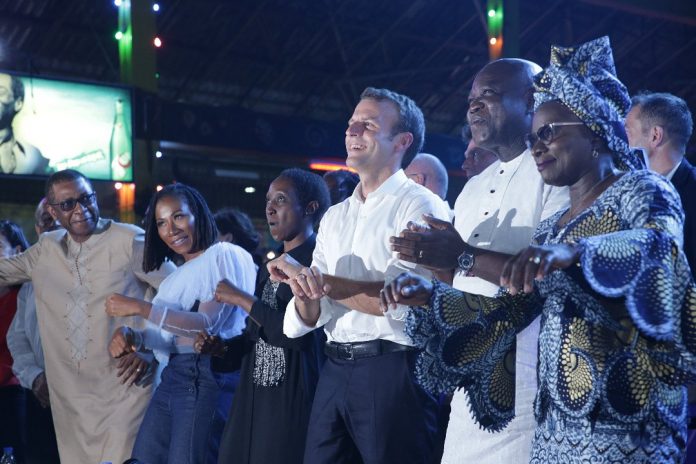 President Emmanuel Macron of France attributed his decision to visit the Afrika Shrine in Lagos to his nostalgia for the good memories of the iconic place.
The President stated this while reacting to questions after a closed door bilateral talks with President Muhammadu Buhari at the presidential villa, Abuja, on Tuesday.
It is believed that Macron would become the first "real president" to enter the Afrika Shrine synonymous with marijuana smoke, sexy backup dancers and protest music.
The French President, who was trained as a senior civil servant at the French Embassy in Lagos in 2004, seven years after Fela died, described the Shrine as a cultural and iconic hub.
Macron, who `confessed' that he was not a stranger to the club, said he recognised the Shrine as an importance place for lovers of African culture.
Macron revealed he had been to the Shrine before for a concert by Fela Kuti's son, Femi. "It's an incredible, vibrant place," he said.
"First, because I wanted to find a good occasion to come back there. I know the place and I have some memories.
"I have to confess at a time that there was no president around, I hope I will not spoil the party.
"I think that is such an iconic place for a lot of African people and African culture.
"And I think very often when you speak of the African culture in Europe, those who succeeded in Europe and in France, which is different most of the times, are not dramatically very famous in Nigeria or in Africa.
"And there is a bias because you know people are absolutely not the same. I mean Fela, Femi, Seun Kuti are obviously very famous in France and Europe,
"I mean they are big successes but the Shrine is a cultural hub, an iconic hub and is very important for me first on a personal level, and that is why I want to say with a lot of humility that I recognise the importance of this place, I recognise the place of culture in this current environment,'' he said.
President Macron expressed the readiness of French government to promote sport and cultural relations between Nigeria and France to address the problem of unemployment among youths in both countries.
According to him, African Cultural Season to be hosted in France in 2020 will be inaugurated at the African Shrine tonight, while French sport initiative will be launched in Lagos on Wednesday.
He said the African Cultural Season which would provide new opportunities to youths, was being financed by the private sector in Nigeria.
Also speaking on the scheduled visit of French President to the Shrine, President Buhari described it as a very good idea.
"Of course it is a very good idea and that is why the shrine survives. If it were not good idea people would have forgotten about it since the death of Fela Anikulapo Kuti.
"People institutionalised it because they value it and that keeps the young men and women very busy".