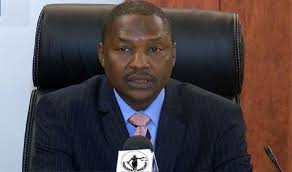 The Attorney-General of the Federation and Minister of Justice, Abubakar Malami, SAN, on Thursday, took credit for a law that was signed by President Goodluck Jonathan and listed as one of the achievements of the Maj.Gen Muhammadu Buhari (retd.) regime.
Malami, while speaking on the achievements of the Buhari regime during a programme on NTA titled, 'Good Morning Nigeria', said Buhari was responsible for the Administration of Criminal Justice Act, 2015, which has ensured the speedy trial of corrupt persons.
The AGF said ACJA was responsible for the successful trial and conviction of three former governors- Jolly Nyame, Joshua Dariye and Orji Kalu.
Malami said, "The Administration of Criminal Justice Act for example and the Correction Service Act among others were innovations of this government to bring about the desired speed in the administration of justice including Executive Order 6 that relates to the restriction of movement of people charged for corruption.
"So, within the context of the three- the Correctional Service Act, the Administration of Criminal Justice Act and Executive Order, the intention and desire was to bring about the enhanced speed in the determination of cases.
"Before this administration in 2015, we had cases that were pending in court for 10 years; high profile criminal cases for 10 years without moving an inch other than perhaps arraignment. The idea of determination by way of calling witnesses, taking witnesses and having the matter adjudicated was all through being truncated, strangulated and indeed substantially placed on hold on account of technicalities.
"The Administration of Criminal Justice Act has indeed added value and that is what we are now seeing with the speedy determination of cases. I think of recent we had three convictions of former governors. Before this administration, they were pending for 10 years without moving an inch. So, the value added is now apparent."
But findings reveal that while the Executive Order 6 and the Correctional Service Act are products of the Buhari regime, the ACJA 2015, which Malami described as the most effective tool in fighting corruption, was signed by Jonathan on May 14, 2015, barely two weeks before leaving office.
The ACJA guarantees a faster trial of criminal cases by ensuring that preliminary objections, interlocutory appeals and other applications do not slow down the pending trial as was done in the past.
It also gives judges the power to inspect detention facilities monthly and order the immediate release of suspects in order to protect their rights and also see to the decongestion of such facilities.