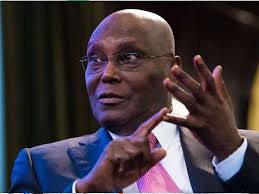 Atiku Abubakar, the presidential candidate of the Peoples Democratic Party (PDP), says President Muhammadu Buhari is more of a power monger than a Democrat.
He said military commanders do not have to obey the president in carrying out orders that are inconsistent with the law of the land.
Atiku said Buhari just put on the garb of a Democrat so he could return to power, but remains a general.
Speaking at the 84th emergency meeting of the PDP national executive council, Atiku said Buhari was not involved in the struggle for democracy in Nigeria.
"I want to direct this message to our military commanders and officers. You know that the military commanders and officers are not bound to execute orders that are manifestly unlawful," Atiku said.
"This is the law, this is the tradition in the military; so if you are a professional military officer and soldier and also a policeman, you are not bound to execute an order that is manifestly unlawful, no matter who issues that order."
On Monday, President Muhammadu Buhari said he has ordered the military and the police to be ruthless, warning that anyone who snatches ballot box will pay with his life.
Sagir Musa, army spokesman, told TheCable that the army's involvement starts and ends with the provision of a peaceful and secure environment for the conduct of the elections.
"Our actions are guided by the extant rules of engagement and code of conduct. The constitution of Nigeria is the grundnorm guiding all our actions," he said.
Elections are due for February 23, 2019 and March 9, 2019.