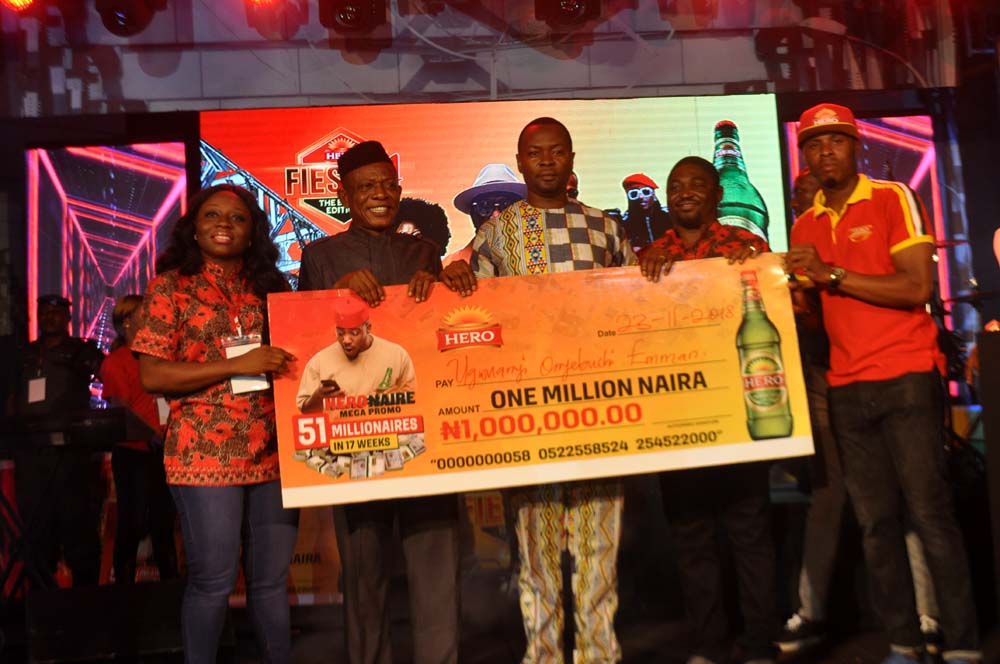 Forty-three consumers have emerged winners in the ongoing national consumer promo, tagged, HEROnaires Mega Promo, 2018 Edition.
The winners were recently presented with their cash and gift prizes. Hero Lager, the brand leading the promo is a leading quality beer brand from the stable of International Breweries Plc, a member of the AB InBev family.
The winners emerged at various draws held across the country, bringing the total number of consumers who have won N1 million and other consolation prizes to 97 since the promo kicked off on 1st October, 2018.
The HEROnaires Mega promo is a reward scheme offering consumers who are above the legal drinking age of 18 with N1 million weekly wins for 17 weeks as well as cash prizes of N50, 000 over the next two months.
"As a business, our dream is to bring people together for a better world. We are therefore delighted that Hero Lager is able to reward and empower loyal consumers via this exciting and life-changing promotion. We are committed to impacting lives for good and putting smiles on the faces of our consumers by creating an opportunity for them to become millionaires," said Marketing Director, International Breweries Plc., Mrs. Tolu Adedeji.
"We encourage all our existing and potential consumers who are within the legal drinking age to participate in the ongoing promo and increase their chances of belonging to a tribe of HEROnaires," she added. "As we enter the season of sharing, caring and giving, what better way is there to salute our teeming consumers than avail them with the opportunity to become success stories as HEROnaires."
On how to be the next HEROnaire, Tolu explained that all consumers need do is to simply text HERO and the unique code under the crown cork to 3810 and they will be eligible for the draws and subsequent entries will qualify consumers for the weekly cash prize of N1 million and other mouth-watering consolation prizes.
Marketing Manager, Hero Lager, Obumneke Okoli, said, "HERO has continued to inspire Nigerians on their journey and helping them to achieve heroic feats and giant strides. Our products are highly famed for quality and also the exceptional consumer experience they provide. We are happy because this platform is an avenue that is translating the dreams of our consumers into reality."
It will be recalled that HERO Lager started its journey from the Eastern part of Nigeria in 2012 and this sojourn has so far seen it attain and achieve HEROic feats as the preeminent beer brand in the region and a market leader in its category.
Consumers are encouraged to follow @HeroLager on Twitter and Instagram to find out more about becoming #heronaires and more updates on the promo.