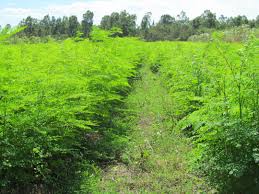 Moringa farmers under the aegis of Eden Group Multipurpose Cooperative Society have cried out over what they call federal government's neglect of moringa farming in Nigeria.
President of the Moringa Farmers and Manufacturers Association of Nigeria, who is also the president of Eden Group, Mr Michael Ashimashiga in a statement made available to LEADERSHIP said that the federal government has never contributed any money for the cultivation, processing nor marketing or export of moringa in Nigeria.
He said that the present setting up of moringa dedicated purchasing and drying facilities across moringa growing states in Nigeria was a private effort sponsored by moringa ready foreign off-takers and companies who have taken the challenge to help reduce the unemployment level in the country and create wealth for the people.
He said, "I have been a lone voice in the wilderness shouting and calling government's attention to the need for this country to promote the cultivation of moringa, but nobody has been listening, not even the government."
According to him, it is projected that Nigeria could earn over N500 billion revenue annually from moringa. "But I am telling you that Nigeria has the capacity to generate three times more than the national budget from moringa alone if it is given the attention it deserves," he said.
"There is a demand to supply over 10,000 metric tons of moringa, Nigerian farmers cannot meet that because they are not getting the needed support.
Mr Ashimasiga said unlike the Central Bank of Nigeria (CBN) sponsored anchor borrowers programme where only 100 people out of 1000 that applied get late support, Eden Group farmers is giving out seedlings and other inputs and support to all the 1000 people that registered across the country.
He said, "This is to meet up with our commitment and the memorandum of understanding (MoU) we signed to deliver thousands of tons of moringa leaves and seeds on monthly basis to their factories internationally."
He promised those that have moringa farms with up to 50,000 organic moringa trees in a clustered farm a natural drying facility and an off-take of whatever was produced.