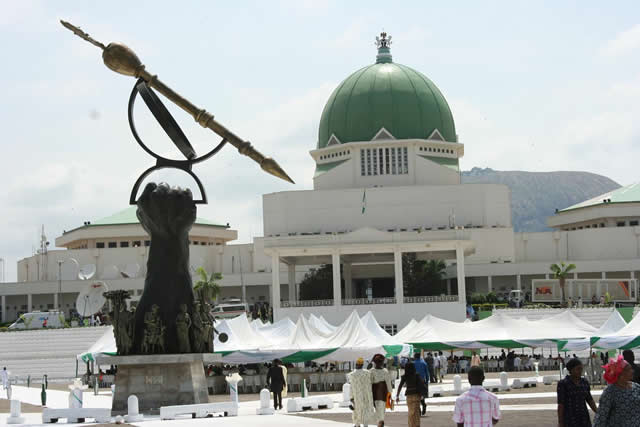 John Dyegh, a member of the House of Representatives from Benue state, has declared interest in contesting for the speaker of the House of Representatives.
Dyegh, who is of the All Progressives Congress (APC) made his intention known while addressing journalists in Abuja on Wednesday.
The APC, which is expected to produce the next crop of leaders for the incoming assembly, had announced Femi Gbajabiamila as its choice candidate for speaker.
The party, however, zoned the deputy speaker to north-central, which includes Benue.
But while speaking at the National Assembly Complex, Dyegh said the north-central feels their votes for the APC in the last election should count.
He also said the zone believes there is room for negotiation regarding the position and urged the APC to change its stance "for the sake of justice."
The lawmaker said: "I am here today to update you on the latest development regarding the contest for the office of Speaker of the 9th assembly. My party the APC in her wisdom zoned the position of speaker to the south-west and even micro-zoned.
"I am a party man and my loyalty to the APC is 100%, however, the north-central zone has not been convinced nor given reasons why their votes should not count and why we should not run and we feel very strongly that there is still room for negotiation because we believe "it is not over until it is over'.
"We are therefore appealing to the party to have a rethink and rezone the speakership to the north-central for justice and fair play.
"As citizens, we all have equal stakes in the 'Project Nigeria', and it is against this background that the "house project for harmony" emerged. I therefore, stand before you today, my colleagues and dear country men to declare publicly my humble and sincere intention to vie for the position of the speaker of the 9th House of Representatives."
Dyegh said he is running for speaker based on his "unyielding faith in a united and prosperous Nigeria."
According to him, "this project is a pan-Nigerian project and is not driven by any selfish agenda. Every Nigerian that believes in justice, equality and fairness is part of this great movement. It is a divine design of God to instill justice in our land."
Some other APC lawmakers have also declared for the position, including Abdulrazak Namdas from Adamawa state Nkiruka Onyejeocha from Abia and Chike Okafor from Imo.