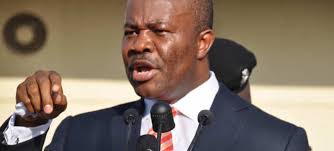 The Minister of Niger Delta Affairs, Senator Godswill Akpabio has said that the Niger Delta Development Commission (NDDC) has not performed well since it was established.
This is just as the minister decried the huge indebtedness of the Commission to the tune of over N2 trillion to some real contracts and imagined contracts.
Senator Akpabio who disclosed this while meeting with the Management team of the NDDC said there would be a forensic audit of the funds received and spent by the Commission since 2000.
"The impact of NDDC on the entire Niger Delta region would have been more if not for those thing militating development, personal interest, political interest, interferences here and there.
"The NDDC was strategic, it was a child of necessity, I believe that the NDDC has not performed well, I don't want to say that you have failed the region, I am saying that you have not performed well.
"The real youths of the Niger Delta who undertook clearance of water have not been paid, those that were paid are political youths, people that you owe just N500,000 to N1 million are over 400 and they have been going to NDDC for over 10 years, and the money has not been given to them.
"I know as for now in terms of debt, NDDC is owing over N2 trillion, some of them are real, some are imagined, but the problem we are having is that you won't know the ones that are real when they are mixed with the that are political, and the result is that someone who took a loan to do a real job for NDDC probably may have died, leaving the family at penury.