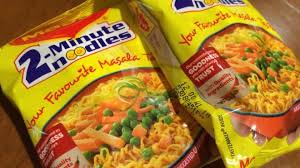 Authorities in northern India have fined Swiss food giant Nestle $96,500 after food inspectors found contamination in samples of its popular Maggi noodles, two years after the controversy first surfaced.
Uttar Pradesh state's Shahjahanpur district fined the Swiss firm 4.5 million rupees and its distributors 1.7 million rupees, taking the total penalty to 6.2 million rupees ($96,500).
"Food quality tests on Maggi samples found the product to be substandard.
"The ash content, which includes heavy metals, found in the samples were above permissible limits for human consumption," district food quality chief DP Singh told dpa by phone.
The samples were collected during raids on various distributors in 2015.
The fine was only imposed two years later after authorities had heard detailed representations from Nestle and its distributors, Singh said.
A spokesman for Nestle India asserted that Maggi noodles were "100 per cent safe" for consumption.
Nestle said it appeared to be a case of "application of incorrect standards" and it would appeal against the order.
Maggi noodles was banned in June 2015 for six months after India's food regulator said the product was "unsafe and hazardous" levels of lead.
Production began after the ban was relaxed later that year.
Singh said while the 2015 ban was because of high levels of lead, the penalty was because of elevated levels of ash content.
The yellow-and-red packages of Maggi noodles are a popular snack in India and can be found in shops in the furthest reaches of the country.
NAN