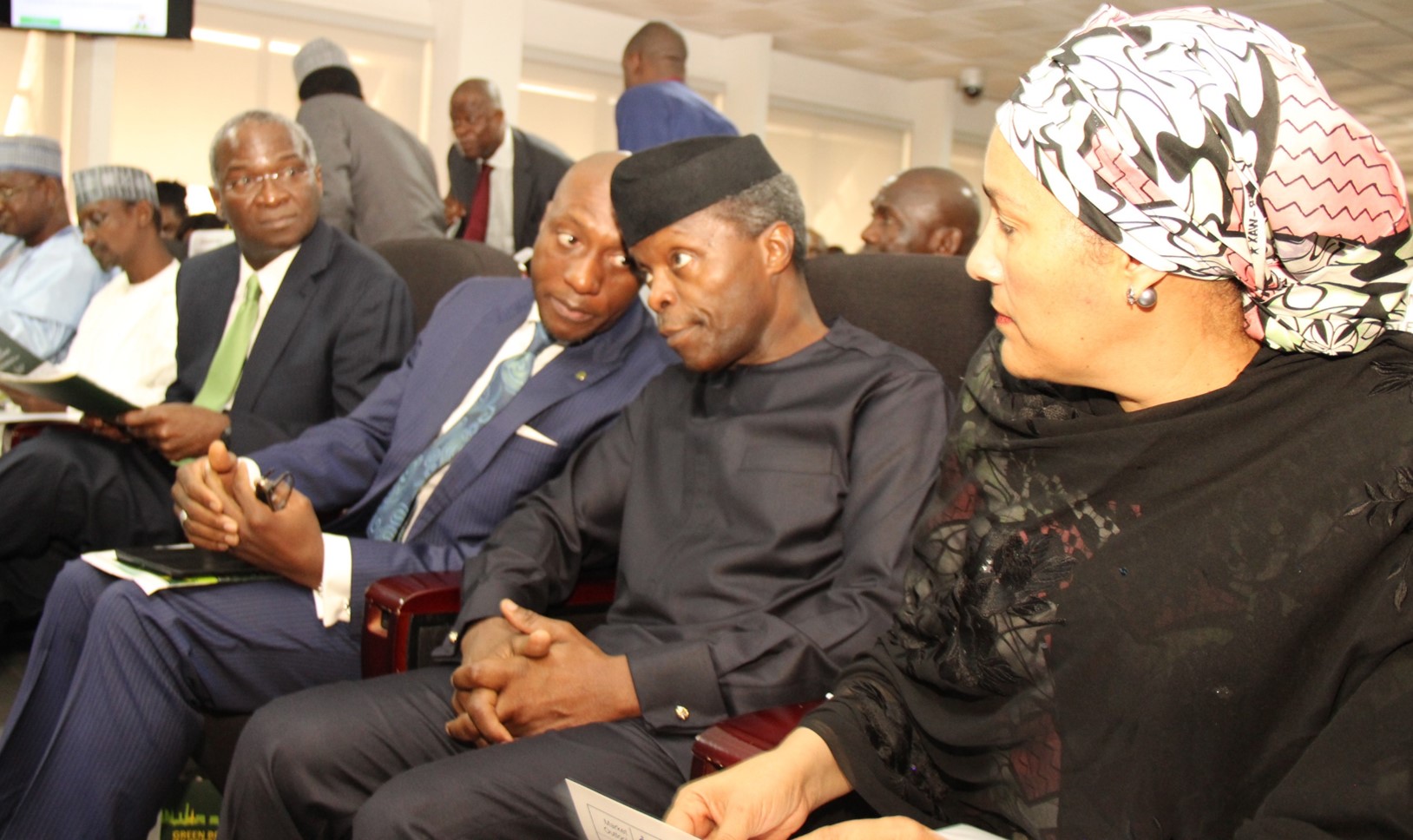 The federal government has announced its plan to issue a N20 billion green bonds in April 2017 to fund projects to reduce carbon emissions and develop renewable energy in Nigeria.
Acting President Yemi Osinbajo who revealed this yesterday, while declaring open the Green Bonds Capital Market & Investors Conference organised by the Federal Ministry of Environment, Ministry of Finance and the Debt Management Office (DMO) at the Nigerian Stock Exchange (NSE) in Lagos said the Federal Government under the Green Bonds initiative would give N20 billion under the first tranche before the end of the first quarter through the nation's bourse.
Osinbajo, who described the initiative as a new addition to the market funding portfolio, stated that the proceeds would be used to fight climate change.
He said that climate change had led to more natural disasters, thereby impacting negatively on food, water and energy supply.
The acting President said that the initiative would also provide an opportunity to deepen the capital market as well as tackle poverty, while supporting the Federal Government's shift to non-oil base assets for project financing for economic growth and development.
He said that the proceeds of the bonds would be used for environmental projects such as renewable energy micro-utilities in three communities estimated at N10 billion.
Minister of Environment, Ms Amina Mohammed who is due to join the United Nations as Deputy Secretary General, in her welcome address said the programme was part of plans to widen Nigeria's funding options and diversify its oil-dependent economy.
She said: "The green bonds issuance will be the first stage in enabling Nigeria to tap into the growing global market for green bonds."
She said the bond would be aimed at domestic markets and its focus would be on low-emission projects in areas including solar power, agriculture, transport and deforestation.
The minister said the process which will see Nigeria launch the first Sovereign Green Bonds in an emerging market began as a seed which was sown by the Private Sector – the Nigerian Stock Exchange.
In her words, "The Government's new proposed Economic Recovery and Growth Plan (ERGP) identifies the Green Bonds as one of the alternative sources of financing. The plan also has significant overlaps with our Nationally Determined Contribution (NDC) on objectives for Power, Transport and Agriculture. For instance, In the power sector target includes 13,000 MWs of off grid solar projects; in transport – implementing schemes that reduce the incidence of cars by introducing and encouraging the use of buses. Attracting climate resources to these interventions expands funding that will be available to our economy. All these are meant to help us achieve a target of 450 million tones in emissions reductions."
She said government is ready and committed to diversifying the economy, creating Jobs, improving security and improving quality of life.
" Green Bonds provides a new product with new credentials that investors can buy into which has gone through a vigorous process to ensure transparency, accountable use of funds and is environmentally friendly," she said adding, "Our domestic market need to rally around our own domestic issuances. The recently issued Euro Bonds are a testament to us that the Nigerian Market is still viable. So, let's translate that to domestic issuances. Greening our economy and financial systems will in the long run support our sustainability efforts and improve the economy as it will open new avenues for new types of jobs, innovation and skill."