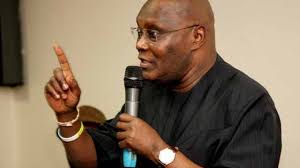 The presidential candidate of the Peoples Democratic Party, Alhaji Atiku Abubakar, says fixing Nigeria will require a lot of hard work with no quick fixes.
Atiku said this in the introduction he wrote in a document, "My document to get Nigeria working again."
The 186-page document was made available to the public on Monday.
He said the document would steadily begin to restore a stronger, equitable, unprejudiced and more prosperous Nigeria.
Atiku said Nigeria needed a resilient and passionate leader that was ready to fight for the country.
He promised to take tough decisions needed to move Nigeria forward.
He said, "It is my pledge, driven by unstoppable dedication, to hit the ground running with these big tasks and to take bold steps towards making difficult decisions that will be good for Nigeria in future years.
"I know it is going to be a lot of hard work, with no quick fixes. It needs a leader that is resilient, disciplined and dedicated, and passionate about Nigeria to fight for it, and consistent enough to guide the country the rough times ahead.
"I pledge to remain focused and make the tough decisions needed to move the country forward."
Atiku said successful governance necessitated political will and a unity of purpose stretching across the different regions of Nigeria.
As the nation goes on the historical journey in the next four years, the presidential candidate said the love to get Nigeria working again must bring all Nigerians together as a united nation.
"We can always fold our arms and say Nigeria is beyond saving, or we can take the bull by the horns with an optimism that Nigeria is worth saving and trusting that certainly glorious days lay ahead after the stormy years.
"I choose positivism, faith and confidence in our vision, the policy, and the political will to use this opportunity to get Nigeria working again," Atiku added.
He alleged that the last three and a half years have been most daunting for Nigerians.
He claimed that all indices on socio-economic and political development have plummeted throwing over 70% of Nigerians into what he called unprecedented poverty, the like of which he said had never been seen before in the nation's history.
Atiku said it was clear that those entrusted with the task of improving the lives of Nigerians were not up to the task.
Now that elections are approaching, the former Vice President said Nigerians would once again have the opportunity to assess the quality of those they wish to place in charge of governance in order to bring about the desired change to the dwindling fortunes of the country.
"The next four years will determine our future in the global race, whether we can regain our leadership role in world affairs, reverse the economic meltdown, reinstate a sense of belonging for everyone, regain our people's trust to protect their lives and property and ensure sustained prosperity.
"Therefore, it has never been more imperative than now that Nigeria needs strong and purposeful governance as well as a capable leader to get the country working again.
"It is now imperative to provide Nigeria with formidable and sustainable governance that will enable our people to make the most of opportunities that the country presents," he added.
Atiku was convinced that his policy to get Nigeria Working again, when implemented, would build a stronger nation equipped with jobs, opportunities, unity and holistic security for all.
He described the coming election as a deciding factor for Nigerians to enable them to choose the path of a restored equitable and prosperous Nigeria or to go down a slippery slope to further impoverishment.
He expressed the hope that Nigerians' choice will be for a stronger Nigeria to emerge from ashes.
"I believe we must get Nigeria working again. If we don't, the consequences will be disastrous," he warned.
See Full Text of Speech
In 2018, I sought the ticket of the Peoples Democratic Party to fly their flag as a presidential candidate of Nigeria.
Today, I am formally launching my campaign. Too many of our people are not doing well economically.
The most important question is, are you better off than you were four years ago?
That is why I am here to tell you how we want to get Nigeria working again. I also want us to discuss the issue of getting Nigeria working again together.
So many politicians have made policies they cannot deliver one. I am not here to just make grandiose promises, but promises that are achievable.
I have worked with experts over the past several years.
I am not talking about what I could do, I am talking about what I have done before.
While vice president, I chaired Nigeria's economic council and took policies that boosted the country's gross domestic product.
We brought telephone connections from a few hundred thousands to over 100 million today.
We were able to achieve this because we had a plan.
I am here to unveil my plan for Nigeria. A plan that will increase Nigeria's productivity. A plan that will care for our women. A plan that will help create jobs.
The sad fact today is that too many of our people are not working. We have never been so divided as a nation.
I am strongly of the view that I am just one Nigerian, and one Nigerian cannot be as wise as all Nigerians. That is why I am for inclusive governance. Atiku Abubakar is 100 percent Nigerian, 100 percent of the time.
It is my desire to run for the office of the president of Nigeria. My plan will reduce maternal mortality and care for the elderly. Above all, my plan will help create jobs.
Without jobs, there would be crime, drugs use and insecurity.
I am not just presenting these policies to you, I want you to own them and review them and have your say.
One thing I have learnt from travelling across the country is that our people need jobs. Without jobs, people would continue to live in poverty. I am here to restructure the polity and get Nigeria working again.
If elected president, I will be proactive in attracting investment and supporting small and medium scale enterprises.
I plan to double our GDP to N900 billion by 2025. These investments will create a minimum of 2.5 million jobs annually and lift at least 50 million people from poverty in the first two years.
Our SME venture capitalists initiatives will help people out of poverty. My plan will lead to vast increase in internally generated revenues.
No state would receive less funding than they do today, in fact all states would receive more.
I started out as an orphan, but God through the Nigerian state invested in me and here I am today. If Nigeria works for me, I owe it a duty to make sure that Nigeria works for others.
Thank you for watching. May God bless you and bless the Federal Republic of Nigeria.