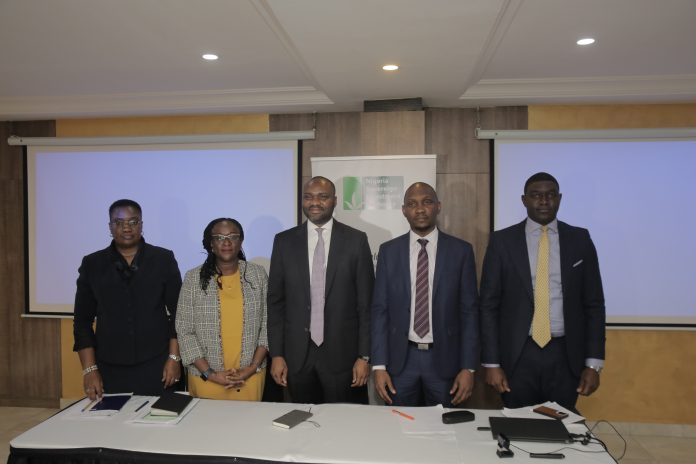 The Nigeria Sovereign Investment Authority (NSIA), has said it is fully committed to sustaining a diversified assets strategy to ensure Nigeria gets the best returns. The sovereign wealth fund also informed that it catalyzed the creation of over 245,000 direct and 315,300 indirect jobs in the last 10 years.
Managing director and chief executive officer of NSIA,  Mr. Aminu  Umar Sadiq who stated this at a media parleyon Thursday in Abuja  also promised that the agency was committed to sustaining diversified assets strategy to ensure better returns for Nigeria.
 He said NSIA's  total assets had grown to N1.02 trillion at the close of its 2022 financial year on December 31.
According to him, the asset growth indicated a 10.5 percent increase from the N919.73 billion recorded in 2021.
In the presentation that showed the investment institution's full 2022 performance report, he said its non-volatile revenue, such as interest income, revenue from infrastructure business, and management fees earned from fiduciary activities, increased by 34.5 percent (N15.7 billion) year-over-year.
He said that NSIA's  total comprehensive income stood at N96.96 billion in 2022, representing a decline of 34 percent compared to 147 billion in 2021. He  attributed the decline to strong macroeconomic headwinds.
He however said  although the firm's earnings are lower than that of 2021, he remained confident in its investment strategy and would continue to explore opportunities to mitigate risks and achieve its investment objectives.
According to him, "We are committed to ensuring that Nigeria's Sovereign Wealth Fund consistently ranks highly in the league of state-owned funds in terms of transparency, governance, and performance. Our foray into some new terrains underscores our resolve to ensure that optimal returns are generated through responsible investing. 
"For emphasis, we have on behalf of the present and future generations expanded our focus sectors to include climate finance, renewable energy, innovation, and technology. This is in addition to the priority sectors we had maintained over the years namely agriculture, motorways, power, healthcare, and gas industralisation."
He said the 2022 fiscal year was marked by unprecedented shocks, such as the COVID-19 lockdown in China, the Russia-Ukraine conflict, food and energy crises, supply-chain disruptions, soaring inflation, and monetary policy tightening, which impacted the financial markets.It
"But our well-diversified portfolio continues to provide the resilience to withstand market challenges as evidenced by the results," Sadiq said.
"Against market expectations and internal forecasts, NSIA closed the 2022 financial year with a respectable performance. This result underscores the robustness of our diversified portfolio, and the excellent commitment of the team.
"As we look to the future, NSIA is resolute in its commitment to delivering increased investments in critical sectors of the economy, driving growth across its funds, and attracting third-party capital into Nigeria's infrastructure sector.
"In 2023, we will be resourcing our various platforms targeted at emerging sectors – renewable energy, sustainability, innovation, and healthcare – which will ensure the Authority achieves its dual objectives of delivering financial returns and impactful social outcomes."
The key projects the NSIA delivered in 2022 cut across core sectors of focus and the implementation of specialised federal government initiatives.
They include projects in the agriculture sector, like the Presidential Fertiliser Initiative and the opening of the Pandagric Novum farm, a joint venture between NSIA and Signature Agri Investment for the cultivation of maize and soybeans and connected to a 147,000 metric tons per annum capacity poultry feed mill.
In the technology sector, NSIA said it introduced the NSIA Prize for Innovation as a measure to stimulate the ingenuity of Nigerian innovators and technopreneurs to develop solutions that address real-world challenges with global application. 
The NPI programme is a business enhancement initiative to support early-stage, growth-driven tech solutions through education, mentorship, and financing and recorded milestones in the gas industrialisation sector, healthcare, power and road.
Under its gas industrialisation initiative, the NSIA and its partner, OCP Group of Morocco, made significant progress in the development of the 1.5MMT Ammonia and Di-Ammonium Phosphate production plants due to be sited in Akwa Ibom State.It said the development of the project has reached an advanced stage, with all preliminary studies concluded: "The Gas Supply and Aggregation Agreement is being finalised with relevant parties, and financing is largely in place to ensure the delivery of the project."On roads, the NSIA reports: "In the 2022 financial year, NSIA continued its development of various projects under the Presidential Infrastructure Development Fund (PIDF), namely the Lagos-Ibadan Expressway, Second Niger Bridge and Abuja-Kaduna-Kano Highway. These projects have reached advanced stages of construction, building on the successes of the 2021 financial year."
On healthcare, the agency reports: "NSIA has kicked off the roll-out of phase 2 of its healthcare projects on the successes of the LUTH Cancer Centre and its two diagnostic centres in Kano and Umuahia. During the year, the Authority secured approval and began developing 23 new modern medical diagnostic centers of excellence which will span across all six geopolitical zones in the country. Presently, two Oncology centres to be located in Enugu and Kaduna states, and six Cath Labs have advanced to the project execution stage.
NSIA has also incorporated an equipment leasing company, Equilease. This is in fulfilment of NSIA's commitment to bridge notable voids in the domestic healthcare value chain. Equilease was conceived to stimulate the proliferation of high-quality medical infrastructure in Nigeria by providing alternative financing options for acquiring critical medical equipment via equipment leasing."  
On power, the presentation shows NSIA completed the 10MW Haske solar power plant in Kano in 2022 as its flagship renewable energy sector project. The power plant was developed on behalf of the federal government and its subnational co-investors to provide off-grid electricity in the Kumbotso Local Government of Kano State.
On its Future Generations Fund (FGF), it reports: "For the FGF, NSIA's approach is centered on generating healthy risk-adjusted returns, cautiously increasing market exposure, and growing the tactical allocation portfolio (ETFs) within the year. Overall, the Authority's portfolio delivered a return of 1.87 percent  (in US$ terms) for the year ended 2022.
"The Future Generations Fund outperformed its sovereign wealth funds peers by 10% on average, with Private Equity being the top-performing sector. Developed Equity, Hedge Funds, and Emerging Long Only Equity posted a decline in the year due to prevailing macroeconomic market conditions."