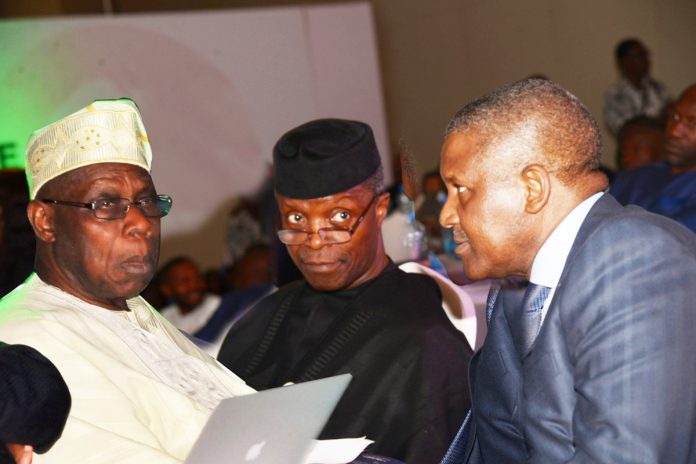 Vice-President of Nigeria, Professor Yemi Osibajo, former President of Nigeria, Olusegun Obasanjo, former President of South Africa, Thabo Mbeki, and president of the Dangote group, who are co-chair of the AfricanChampion Club have called on top entrepreneurs in the continent to focus on job creation for their teeming unemployed youths as a way to ensure economic prosperity and poverty reduction in the continent.
They said for Africa to attain its desired goal in real growth and development, prominent African leaders and top entrepreneurs across the continent have to work effectively together towards integrating their economies to enable free trade among its members.
Speaking at the launch of AfroChampions Initiative recently, Vice-President of Nigeria, Professor Yemi Osibajo urged the private sector in the continent to take the lead in reshaping Government policies and strategies in the continent.
Osinbajo congratulated the initiators of the Africa champions initiative on their visionary action and pledged that the administration was behind them.
"We think that it is the private sector that would do what is required to bring the urgency and the sense of mission to all the plans in the African Union (AU)," he said, adding, "We will like to see greater synergy and collaboration in the Africa champions while all the organs of the AU get involved in economic integration issues."
He further said the continent: "still have one of the lowest trade integration levels under 20 per cent while Asia is at 40 per cent and European integration is very much further ahead at about 60 per cent. The fact remains that other regions play as a bloc but Africa is still largely splintered into several economies and the ease of doing business across the region remains a significant challenge".
On his part, Mr. Thabo Mbeki emphasized greater integration of African economies for real development.
Alhaji Aliko Dangote on his part, said the Afrochampions initiative is for African businesses to cater to African needs to accelerate development in the continent and create more jobs to tackle unemployment of youths in the continent.
He acknowledged that it is the first time that leaders from Africa's multinational companies will meet, not to discuss their sector and ad-hoc investment opportunities, but to exchange views on Africa's transformation and on what contributions they may have.
Noting that Africa's young population and a growing labour force are valuable assets in an aging world, he said: "Africa's current population of 1.2 billion (16 percent of the world's population) is expected to grow to 3.8 billion by 2100 – accounting for 49 percent of the world population. By 2034, the working-age population is expected to hit 1.1 billion, larger than that of either China or India."
Dangote promised to work with his colleagues to make the club a unique platform on which "We as African business leaders, can overcome our differences and speak with one voice, to foster reforms facilitating trade between our states with investments in strategic projects and synergies between our countries."
Former President Olusegun Obasanjo expressed appreciation and commendation for the initiative and added that while the initiative had put the private and public sectors together it needed to integrate the financial institutions.
He mentioned the Lagos Plan of Action, the Abuja treaty, NEPAD as initiatives which had not achieved their purposes before going under.
"We should not allow this one to sleep; we should continue to fan the flame of Afrochampions initiative and may God help Africa," the former President said.