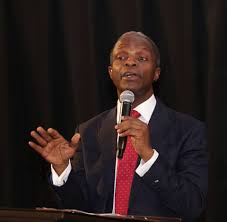 The Acting President, Prof. Yemi Osinbajo, has requested approval of the House of Representatives for fresh $1.28 billion and €9 million loans under the 2016-2018 External Borrowing (Rolling) Plans of the Federal Government. A letter he wrote to the House of Representatives on the matter was read to members by the Speaker, Mr. Yakubu Dogara, on Tuesday in Abuja.
Osinbajo explained that the $1.28 billion was to support the operations of the Development Bank of Nigeria. He said the "multi-donor supported bank" was approved during the administration of former President Goodluck Jonathan and had its financial agreements executed on February 25, 2015. However, the acting President stated that the $1.28 billion, which ought to have been included in the 2014-2016 borrowing plans, was inadvertently omitted. He noted that there was an urgency to re-list the $1.28 billion in the 2016-2018 borrowing plans because the creditors were ready to provide the funding. For instance, Osinbajo said the World Bank Group would provide $500 million; African Development Bank, $450 million; Kfw Development of Germany, $200 million; and French Development Agency, $130 million, bringing the total to $1.28 billion. The letter added that the €9 million would go into the Fund for Agricultural Finance in Nigeria. Osinbajo stated that the Kfw Development Bank of Germany would provide the money. He stated, "The first phase (FAFIN-I) was in the €10.5 million and the financing agreement was executed on the 3rd of October, 2013. It is an investment facility in agricultural financing. The first tranche of FAFIN-I has been fully disbursed and the donor is ready to provide another tranche of €9 million for FAFIN-II. "The second tranche is for the consolidation of the gains in the investment of the first tranche."
Earlier on April 26, 2017, President Muhammadu Buhari had written the National Assembly seeking approval to include another $6.9 billion in the borrowing plans. The facility was requested for the execution of key rail projects, the rehabilitation of the North-East and projects in education, agriculture and health sectors. According to the President's request, the Chinese, through the China Eximbank, will provide over $5.8 billion of the loan, while the World Bank will make provisions for the balance. Among the rail projects are the Coastal Railway Project (Lagos-Calabar segment), estimated at $3.4 billion; the Lagos-Kano Railway Modernisation Project (Lagos-Ibadan segment), $1.2 billion; and the Lagos-Kano Railway Modernisation Project (Kano-Kaduna segment), $1.1billion.